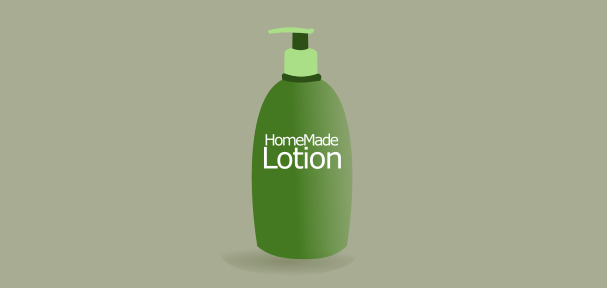 Homemade natural skin lotions are easy and satisfying to make. In addition you will save yourself a fortune and can rest easy in the knowledge that you know exactly what has gone into your product.
There aren't really any wrongs or rights to making your own natural skin lotions and the quantities of various ingredients is down to personal taste and the consistency you prefer.
However, to get you started here are a few ideas on how to make your own lotion.
How to Make the Base Lotion
To make a base lotion, mix together equal amounts of water and an oil of your choice.
This can be jojoba oil, sesame oil, almond oil, even plain high grade olive oil or any other oil of your choosing.
In order to get these two ingredients to blend together you will need to use what is known as an emulsifier.
Lecithin is a 100% natural product that can be easily obtained in its liquid form to fulfill this purpose for you.
Once you have your base lotion you can add other ingredients with specific properties for addressing particular skin care issues.
You don't have to use a base lotion but you may find it easier to do so. In addition lecithin contains a natural preservative which may help prolong the life of your homemade skin lotions that use many fresh products.
1.) Aloe Vera Skin Lotion – for soothing and nourishing skin
Base lotion
Juice from the leaves of an Aloe Vera plant or Aloe Vera gel
1 tablespoon of plain natural yogurt
1 drop of chamomile essential oil
Finely chopped cucumber
Blend all of these ingredients together for a soothing and nourishing cream that can be applied directly to the face and neck. Add extra yogurt if your lotion is too runny or extra base lotion if it is too thick.
Aloe Vera is a natural anti-irritant and has incredible soothing and healing properties.
2.) Coconut Oil and Honey Lotion – for dry skin
Base lotion
Coconut oil – this can form part of the base lotion or be added
1 egg yolk, beaten
1 tablespoon of honey
2 drops of Sandalwood essential oil
All of these ingredients are natural moisturizers and will work well in combination to rehydrate your skin. In addition, coconut oil is an excellent treatment for skin conditions such as eczema and psoriasis as well as having the ability to act as a sun screen, filtering up to 20% of the sun's rays.
Other ingredients that work well as natural moisturizers are:
Bananas (puréed or liquidized in a blender)
Patchouli essential oil
Avocado
3.) Papaya Lotion – anti-aging and wrinkle treatment
Base lotion
Puréed papaya pulp
1 drop of lavender essential oil
1 tablespoon of pure natural honey
Papaya has been used for centuries as an aid to promoting beautiful skin. It is packed with essential vitamins and minerals which nourish the skin.
Honey is a natural astringent which means it works to tighten and shrink the skin which helps to reduce the appearance of fine lines and wrinkles.
Other ingredients that help the signs of aging:
Banana
Oatmeal – natural astringent
Avocado – high Vitamin E content which is extremely beneficial for the skin
Coconut oil – thought to delay the signs of aging due to its anti-oxidant properties
Rosemary essential oil
Neroli essential oil
Geranium essential oil
4.) Banana Lotion – for brightening tired and dull skin
Base lotion
1 banana, peeled and pulped, puréed or liquidized
1 teaspoon of coconut milk
1 tablespoon of yogurt or cream
1 drop of Neroli essential oil
Bananas are packed with nutrients and Neroli has properties for cell rejuvenation.
Other ingredients for brightening skin:
Avocado
Nutmeg
Papaya – packed with Vitamin A which encourages the skin to replace itself
5.) Lemon and Eucalyptus Lotion – for oily skin
Base lotion
1 egg white
1 teaspoon of fresh lemon juice
Other ingredients for reducing oily skin:
All citrus juices (lemon, lime orange, pineapple)
Witch Hazel – a natural oil absorber
Vinegar
Basil essential oil
Rosemary essential oil
Once you have made up your home-made lotions they will need to be stored in the fridge to keep them fresh.
Home-made lotions will sometimes only keep for a few days so it is a good idea to make up very small amounts at any one time to avoid waste.
Many people have sensitivities to certain essential oils and strong citrus juices. Use these very sparingly to begin with and discontinue their use immediately should you notice any adverse effects.
Many people find that once they have started using home-made natural skin lotions they never return to the shop bought counterparts. The beauty of home-made lotions is that you will find, through trial and error, which ingredients are particularly effective for your own skin type or needs and adjust the ingredients accordingly.