With the advent of technologies like Biofeedback there have been a flurry of new and innovative stress relief products in the market.
Given below is a list of 12 of the most innovative products that will help you monitor, manage and reduce your stress levels, reduce fatigue, aid relaxation, remove brain fog and improve concentration.
1.) Fidget Cube – Vinyl Desk Toy
First on our list is 'Fidget Cube'.
Research suggests that fidgeting can increase concentration, stimulate muscles and aid relaxation. And this is exactly what 'Fidget Cube' is all about.
As the name suggests, each side of this cube contains switches, buttons, joystick, rollers, and other items that you can fidget with when you are feeling stressed or bored.
The following is all that you can do with the cube:
Spin: There is a dial that you can spin.
Roll: There are gears and a ball that you can roll around.
Rub: There is a smooth surface that you can rub and get similar benefits to that of a worry stone.
Flip: There is a switch that you can flip.
Glide: There is a joystick like contraption that you can use to glide along.
Click: There are six clicker buttons that you can use to click.
Note: There are many cheap rip-offs of this product in the market. These include the StressCube. Please make sure to order from the above link and support the original creators.
2.) SPECTER Oligospheres – Brass Stress Balls
Stress balls are everywhere, but this is not your average stress ball. The makers of this product call it "a therapeutic work of art" and we concur.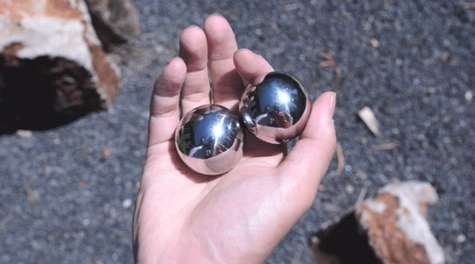 This product is designed to stimulate the many pressure points in your hands that help release stress, increase blood flow and promote muscle health.
The weight and shape of the balls play a major role in its stress reducing functionality. Whenever you feel stressed, simply pick up both the balls and rotate them around in your hands and you will soon start to feel relaxed and rejuvenated.
These balls can be ordered as stainless steel balls or high quality oligodynamic brass (has germ killing ability) balls. Also included is a wooden display stand using which you can easily double this into 'desk art'.
3.) Dreampad Pillow – Plays Gentle Vibrational Music
A restful sleep is crucial to keeping your stress levels low. The Dreampad pillow has been designed to help you get that restful sleep.
The innovative part about this pillow is that it plays music through gentle vibrations that only you can hear. The gentle vibrations increase blood flow, relax your muscles and promote deep restful sleep.
According to the creators, the music generated by the pillow stimulates the vagus nerve (the longest nerve in the body) and thereby helps put the body in parasympathetic mode. This is the mode where the body relaxes and stress causing hormones start to lower aiding deep restful sleep.
key features of the product:
Can be used by both adults and children.
Stimulates the vagus nerve to promote deep restful sleep.
Uses intrasound technology to play vibrational music that is audible only to you.
The music includes frequencies that enhance relaxation and sleep.
Comes with a free App that helps you control the music using your smartphone. There are 10 different options to choose from.
You can play your own relaxation music using the App.
Available in firm support, memory support and slim support varieties
4.) Touchpoints – Pair of Vibrating Wearables
Touchpoints is a wearable (comes in a pair) that uses 'Bilateral Alternating Stimulation' (BLAST Technology) to generate gentle vibrations to help reduce stress, improve sleep and increase focus.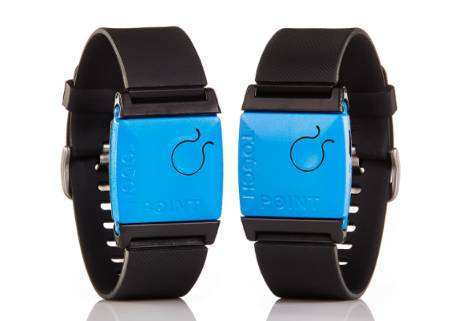 When we are stressed, our body automatically switches on the sympathetic nervous system also known as the 'fight or flight response'. According to co-founder Vicki Mayo, the vibrations generated by Touchpoints help the body relax and return to the restorative parasympathetic state all within 30 seconds!
The 'Bilateral Alternating Stimulation' technology used by touchpoints has been shown to have good results in reducing stress/anxiety according to several studies. In-fact, touchpoints has been seen to be very effective in calming autistic children who generally suffer from nervous system hyperarousal.
Developed by Neuropsychologist Dr. Amy Serin and executive and child advocate Vicki Mayo, the product is easy to use and comes with three settings – Sleep, Calm and Anger.
5.) Soulstones – Handcrafted Porcelain Worry Stones
Soulstones are beautiful 'hand made' porcelain stones that are based on the concept of worry stones.
The Soulstones works on a simple concept – whenever you feel stressed, you rub the soft surface of the stone with your thumb to relax and rewind.
The stones come in a variety of colors and can be brought as a set of seven stones, set of three stones or a single stone. The stones look aesthetically pleasing and can even double as a desk art. Each of this stone has been hand crafted by the creator and comes with the maker's mark. So in a way, each of this stones is really unique in the way it looks and feels.
6.) Melomind – Relaxation Headset
Melomind is a headset that uses biofeedback to help you relax. According to the creators, Melomind acts like a virtual coach and constant use of the product will train your brain to cope with stress better.
How Melomind works: Melomind uses EEG Sensors to measure your brain waves. Based on the current state of your brain waves the headset generates a music in real time. The frequency of the music gets adjusted automatically based on the changes in your brain waves.
Key features of the product:
The Melomind headset contains bluetooth headphones and EEG sensors that measure brain activity (brainwaves) and send the data to your smartphone.
Melomind uses neuro-feedback technology to train your unconscious processes and helps your brain better deal with stress.
The music generated by the headset changes based on your brainwaves. (The music is modulated based on your relaxation level.)
The more you practice the better it works.
7.) Headoc Head and Body Massager
Headoc is a gentle massage device that uses Red Light Phototherapy, negative ions and vibration therapy to relax your muscles, reduce fatigue and promote relaxation.
How Headdoc works: As you massage your body with Headoc, it releases negative ions along with a gentle vibration that help you relax and feel rejuvenated. The product also uses red light phototherapy that is known to repair skin tissue and promote regeneration.
Key features of the product:
Negative ions help reduce depression, enhance sleep quality, enhance memory and cognitive functions.
Vibration improves blood flow and helps relieve stress, fatigue and headaches.
Red light is known to relax muscles and promote regeneration of skin tissue.
Can be used to massage all parts of the body including your forehead.
Works using a rechargeable battery that can be charged using a USB charger.
8.) Vitaltone – Re-calibrate Your Body's Electromagnetic Biofield
Vitaltone uses human generated sound frequencies that re-calibrate the electromagnetic biofield of your body causing deep relaxation. The device comes with a headset and pads with speakers that can be attached to different parts of your body.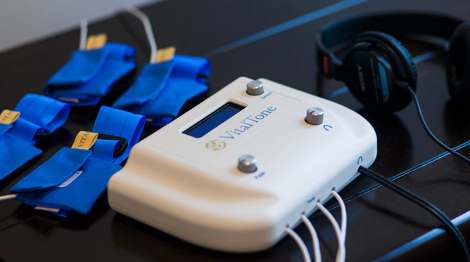 Here's how Vitaltone works: Every cell in your body resonates at a certain frequency known as the healthy resonant frequency. This frequency gets disturbed because of elements like Wifi and other toxic electromagnetic fields, other environmental toxins and stress. Vitaltone uses sound frequencies to re-calibrate the electromagnetic biofield of the body. It can relax your body, promote better sleep, improve energy, improve mental clarity and focus.
How is this different from listing to binaural beats? Well, this system comes with headphones as well as pads that can be wrapped around your legs and wrists. These pads have their own speakers and a lab grown crystal. The crystal is used to generate vibrations that are then deeply absorbed by the body tissues. This impacts your entire neurological system generating relaxation and calmness throughout your entire body.
9.) Muzo Noise Cancellation Device
Muzo helps creates your own personal zone of silence by cancelling out distracting noises.
How Muzo works: Muzo uses a Neo-Magnetic system to generate relaxing sounds while cancelling intrusive noises and vibrations. You can switch on the device and change modes using a smartphone app. For example, there is a 'serenity mode' that plays soothing music while cutting out the stress causing sounds for your to relax. There is a 'sleep mode' that cuts out all noises and creates a silent atmosphere for you to sleep better.
10.) WellBe – Stress Therapy Bracelet
Wellbe is a biofeedback device that monitors your heart rate throughout the day and lets you know what increases your stress levels. It helps detect your stress levels based on time, location and the people you meet on a daily basis.
In addition to detecting your stress triggers, the wellbe App offers you various biofeedback exercises such as focused breathing, guided imagination and meditation that you can practice to reduce your stress levels and promote relaxation.
You can use the App to figure out which activities relax you the most and hence can spend more time on such activities. Say for instance, you are meditating for about 10 minutes. You can now instantly check your Wellbe App to see how this meditation impacted your overall stress levels. Based on this information, you can figure out which types of meditation or activities help you relax and reduce your stress levels faster. You can also learn how long you need to do these exercises to get the maximum results.
The App also has a feature that notifies you in real time when your stress level is really high.
You can use this information to know when to take a break to do meditation or breathing exercises to bring your stress levels down.
11.) C-Rest Head and Neck Massager
Anyone who has chronic stress also invariably suffers from neck and shoulder pains. If you are suffering from the same, you must consider giving C-Rest a try.
C-Rest has been designed to help you heal pain by stimulating key areas and increasing blood flow. It improves circulation in the head and neck areas and acts as a virtual massage therapist relieving tension and stress. In addition to releasing stress, it also helps you improve your posture.
You can use this product for about 10 to 15 minutes before sleeping to relieve all the stiff muscles in your neck and shoulder area. Just place the product under your neck and move around side to side so the product touches all the accu-pressure points on your neck and shoulder region.
12.) Lief Smart Patch
The Lief smart patch is a piece of wearable equipment that constantly monitors your heart rate. Whenever it senses an increase in your heart rate, it starts to vibrate softly giving you a signal that you need to change your breathing pattern. You then change your breathing pattern in accordance with the vibrations.
In other words, it helps you sync your breath with your heart rate. According to the creators, three minutes of such breathing can help you de-stress and improves your natural stress response. Constant use helps you train yourself to improve your natural stress response.
This information is also sent to an app and hence you can easily access all the data on your mobile phone. The app helps you gain valuable insights into your thinking patterns that are affecting your body in a negative way.
A low HRV score is indicative of increased stress and anxiety levels. Using this device, you can improve your HRV and train yourself to take better control of your body and mind through-out the day.
You can attach this device to your body using stickers and hence there is no need to use uncomfortable straps.
Let us know if you have used any of these products or related products in the comments below or by sending us an email.