We get up every morning and start our day; basically we gear up for the stress that is awaiting us.
We don't call it starting over, but we use such a phrase when we are recovering from a major disappointment in life and the only thing that seems logical is starting afresh or starting over.
When confronted with such a step in life, we look around for motivation, a little bit of magic, a wee bit of fairy dust.
It's required because after such a disappointment, we feel heavy, and seek some support to ease up our attitude towards the forthcoming journey, something that makes things lighter and excites us.
Here are a few inspiring quotes in this direction.
1.) Every single morning we get a chance to begin again
Life comes to us in the form of moments, days, nights, hours or whatever we may call it, it comes to us in parts.
Aren't we starting over every day or every moment?
We get a fresh new start every day.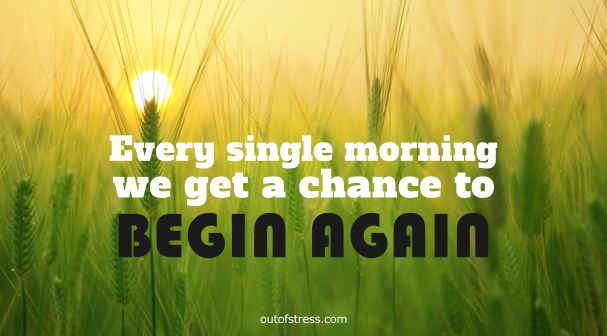 If we look around us closely we can see that everything is new and fresh so why not take a little inspiration from there and start anew, try out new things, search for a deeper meaning, pay a little a more attention and be more mindful about things.
2.) Remember why you started
It's important to remind ourselves why we began in the first place.
A conscious but guilt free reminder of past errors, and our ultimate goal, helps us stay on track; for repeating the same mistakes will get us back to square one.
When we reconsider our approach, and try to internalize our learning, we get newer and better insights into things and several creative solutions come up.
3.) If you are tired of starting over, stop giving up
If we continue to start over endlessly in a particular area of our lives, it means we didn't try enough in the first place.
A little introspection can go a long way at such a time.
Every time one feels like giving up, the right thing is to stop, relax, and try again.
4.) Failure is the opportunity to start over again more intelligently – Henry Ford
We are bound to face fear and its various forms which include guilt, insecurity, hopelessness etc. while we strive to create a new pathway towards our objectives.
The obstacles that we face are equally scary whether the goals pertain to our personal or professional life. A constant reminder of our objective with consistent effort is the only way to overcome fear.
Henry ford the great American industrialist who revolutionized the automobile industry continues to be the guiding force in the field of entrepreneurship.
His autobiography is very motivational and full of striking beliefs with respect to success, hard work, teamwork etc. He believed that there is no disgrace in honest failure but there is disgrace in fearing to fail.
5.) Allow yourself to be a beginner. No one starts off being excellent.
Many a times a thirst for perfection can become our greatest hurdle.
It's better to keep going with what we have at that given moment and not try to be perfect. This approach allows things to flow from a more relaxed place and in time can pave way for excellence.
Faith and patience may not always yield results immediately or apparently, but always eventually. What is more desirable at every stage of any endeavor is a consistent effort.
Keep going and everything you need will come to you at the perfect time.
6.) People underestimate their capacity for change. There is never a right time to do a difficult thing – John Porter
Sometimes all one has to do is to get over the beginner's block.
No matter what your age, or current level of expertise, don't underestimate your ability to surprise yourself.
Habit is after all second nature, so in time the human body and mind can be moulded to achieve the desired results.
If we keep waiting for the right time, we may never start. Nothing really needs to be labelled as difficult or easy; everything after all is a step, a mere step before the next, so stop being overwhelmed and take it one step at a time.
7.) Let yourself be gutted. Let it open you. Start here – Cheryl Strayed
If you have watched the movie 'wild' or read the book by the same name by Cheryl Strayed, you already know that it's about starting over.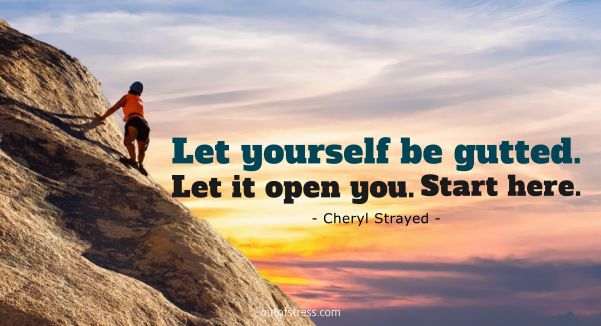 Sometimes by setting and achieving even harder immediate goals you tend to surprise yourself so remarkably, that all your lack of self confidence due to past failures just washes away and you can clearly see a new beginning.
If making yourself go through a new challenge that makes you uncomfortable but builds you again from scratch, is your style, then go ahead.
Cheryl Strayed is a writer who is famous for her motivational autobiographical work 'wild' which was New York Times No. 1 bestseller.
It chronicles her 1,100 mile long hike on the pacific crest trail on the west coast of the Unites States without prior experience of such an activity.
It's full of moving and motivational details about her life. In 2014 a movie was released of the same name where actress 'Reese Witherspoon' played the leading role. Here is the official trailer of the movie.
8.) If you do what you always did, you will get what you always got
It is possible that sometimes the roads we take to reach our goals become outdated or outgrow us.
As human beings we are constantly evolving whether we consciously understand it or not.
Sometimes a different approach or newer point of view can help. Don't be afraid to discuss these things with people who are supportive of you, but ultimately follow you own instinct.
9.) You don't have to have it all figured out to move forward
Moving forward is essential but doing so with extreme clarity isn't essential.
There will always be some amount of confusion. Learn to make peace with it. Too much mental dialogue and an over analytical approach can only lead to further confusion.
10.) New beginnings are often disguised as painful endings – Lao Tzu
Pain is always part of any journey that is worthwhile, be it mental or physical.
It will surely not feel good but is necessary. What is interesting is that, pain almost always guides us to newer beginnings, if we learn the right lesson in time.
11.) Nothing ever goes away until it teaches us what we need to know – Pema Chödrön
There are patterns to everything we do in life.
Some patterns have to be retained and chiseled and some have to be foregone, but they will not leave unless we learn.
Read the full quote here: http://www.goodreads.com/quotes/593844-nothing-ever-goes-away-until-it-has-taught-us-what
Pema Chödrön is an American Buddhist nun. She has written several books on themes related to spirituality and everyday life. Her book titled "when things fall apart: heart advice for difficult times" is a collection of talks regarding spirituality, starting over and life in general.
Experience and maturity can always make us see things more clearly, so without doubt life becomes easier when they increase. With increased patience one can develop a more neutral outlook towards life. This will not only decrease our stress levels but also make us see the bigger picture.
The results and the experiences that follow are far more balanced and positive.