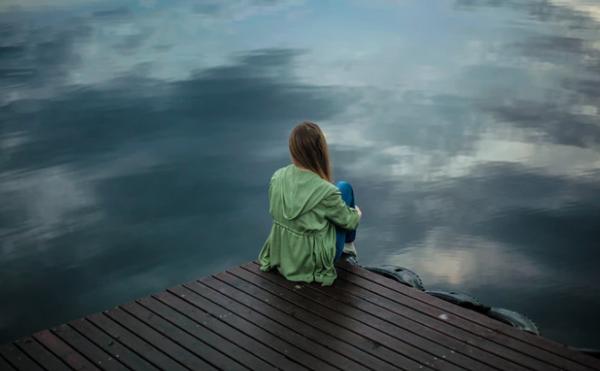 Anger is an incredibly powerful emotion, but whilst it can summon the energy of a thousand burning suns this emotion should be channeled in a more, let's say, productive manner.
Unbridled anger will most times leave you frustrated, at a loss for words or perhaps the opposite, having said way too much and using hurtful phrases that in the end you wish you had never said.
Staying calm when angry
There is a reason that they say that we should never make decisions with a hot head and that's because both emotionally and physically, your body is going through way too much when it gets angry.
You start sweating, you see red, your ability to control yourself falters and hence your best bet is to stay calm and collected.
Not only will you be able to pride yourself in that you didn't regret anything you said, but you will more than likely come out triumphant from whatever it was that got your blood boiling in the first place!
Calming quotes for anger
If you have anger within you at this moment, then here is a collection calming quotes that will help you let go and release this emotion.
---
"Your mind is like this water my friend, when it is agitated it becomes difficult to see. But if you allow it to settle, the answer becomes clear." (Interpretation)
– Bil Keane, The Family Circus
---
"It is not the actions of others which trouble us, but rather it is our own judgments. Therefore remove those judgments and resolve to let go of your anger, and it will already be gone."
– Marcus Aurelius, Meditations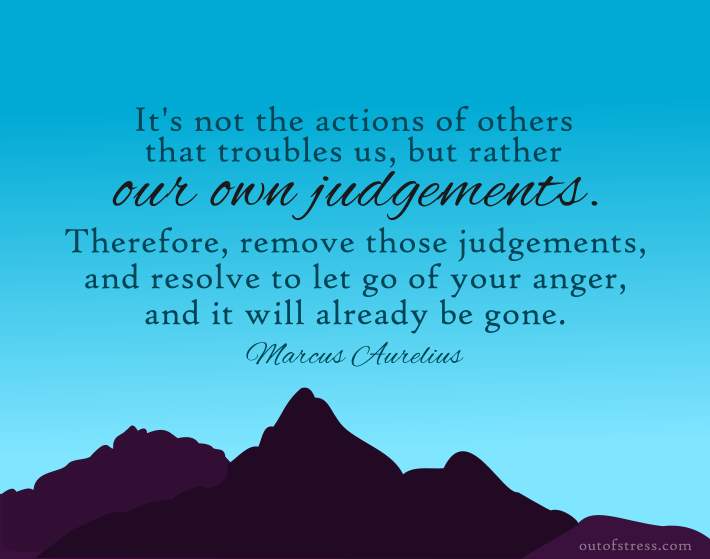 ---
"You are not the anger, you are the awareness behind the anger. Realize this and the anger
will no longer control you."
– Eckhart Tolle, The Power of Now
---
"Patience and empathy are anger's mortal enemies."
– Gary Rudz
---
"Conquer the angry one by not getting angry; conquer the wicked by goodness; conquer the stingy by generosity, and the liar by speaking the truth."
― Siddhārtha Gautama, Verse 223, The Dhammapada
---
"Don't hold to anger, hurt or pain. They steal your energy and keep you from love."
– Leo Buscaglia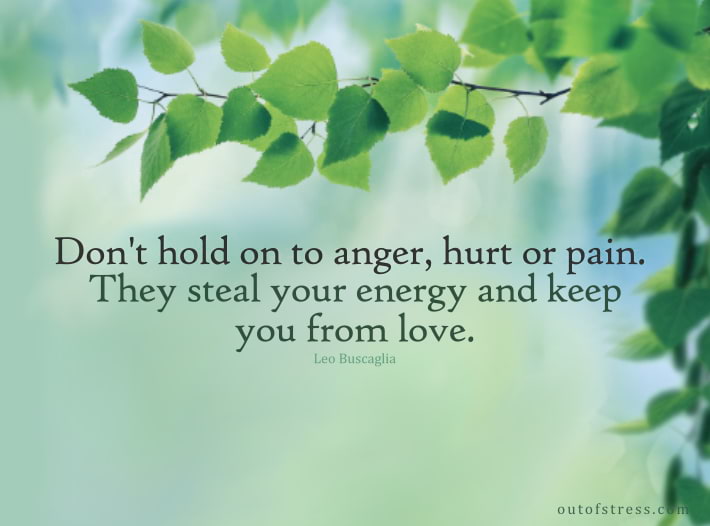 ---
"The best fighter is never angry."
― Lao Tzu
---
"Holding on to anger is like grasping a hot coal with the intent of throwing it at someone else; you are the one who gets burned."
– Buddha
---
"Calm is the best revenge."
---
"Do not let your anger lead to hatred, as you will hurt yourself more than you would the other."
– Stephen Richards, Cosmic Ordering Guide
---
"When angry, count ten before you speak; if very angry, a hundred."
― Thomas Jefferson
---
"The one who angers you, controls you. Let your anger go and become free."
– Chinese Proverb
---
"Anger makes you smaller, while forgiveness forces you to grow beyond what you are."
---
"Acknowledging and being conscious that you are being angry is a battle half won against anger."
– Anon
---
"Patience is the direct antithesis of anger."
― Allan Lokos, Pocket Peace: Effective Practices for Enlightened Living
---
"Angry people are not always wise."
― Jane Austen, Pride and Prejudice
---
"Speak when you are angry and you will make the best speech you will ever regret."
― Ambrose Bierce
---
"For every minute you are angry you lose sixty seconds of happiness."
– Ralph Waldo Emerson
---
"Throughout life there will be people who will make you mad, disrespect you and treat you bad. Let God deal with the things they do, cause hate in your heart will consume you too."
– Will Smith
---
"A heart filled with anger has no room for love."
– Joan Lunden, Wake-Up Calls: Making The Most Out Of Every Day
---
"The greatest remedy for anger is delay."
---
"The best vaccine against anger is to watch others in its throes."
― Marcel Proust
---
"Consciously feel the energy behind your anger and anger will no longer control you as it used to".
---
"It is wise to direct your anger towards problems — not people; to focus your energies on answers – not excuses."
– William Arthur Ward, Fountains of Faith.
---
"Controlled anger leads to positive action."
― Todd Stocker
---
"Love wins when reflections win over reflexes."
― Abhishek Shukla
---
"To be free from anger, don't express it or suppress it, instead feel the energy behind it, understand it for what it's worth and you will become free from it".
– Mukesh (ConsciousReset.com)
---
"The best way to deal with anger is this: Acknowledge the presence of anger in your being and then consciously shift your focus from angry thoughts to empowering and uplifting thoughts."
– Mukesh (ConsciousReset.com)
---
"Anger is meant to be acted upon. It is not meant to be acted out."
― Julia Cameron
---
"Understanding doesn't leave room for anger, hurt or fear."
― C.M. Rayne
---
"A moment of patience in a moment of anger saves a thousand moments of Regret."
― Ali Ibn Abu Talib
---
"When you are angry, be still and do not speak."
― Lailah Gifty Akita
---
"You can be assertive without anger attached to it."
― Nikki Rowe
---
"when your emotions are in motion, take a break and ponder!"
― Ernest Agyemang Yeboah
---
"Scores of studies have shown that venting doesn't soothe anger; it fuels it."
― Susan Cain, Quiet: The Power of Introverts
---
"Studies show that aggressively expressing anger doesn't relieve anger but amplifies it. On the other hand, not expressing anger often allows it to disappear without leaving ugly traces."
― Gretchen Rubin
---
"There is always something behind what is wrong and to change what is wrong, mind the things behind what is wrong! When you see what is wrong, see why, who and what is behind what is wrong."
― Ernest Agyemang Yeboah
---
"No passion disturbs the soundness of our judgement as anger does."
― Michel de Montaigne
---
"Anger is a true messenger of wisdom, if you are willing to listen. It whispers to you, your deepest wounds, that need healing."
― Drishti Bablani
---
"The boiling water that does not cool down only dries out!"
― Ernest Agyemang Yeboah
---
"Anger is an acid that can do more harm to the vessel in which it is stored than to anything on which it is poured."
― Mark Twain
---
"Men in rage strike those that wish them best."
― William Shakespeare
---
"Anger is a valid emotion. It's only bad when it takes control and makes you do things you don't want to do."
― Ellen Hopkins, Fallout
---
"Anger is a brief madness."
---
― Horace
"As soon as anger knocks at one's door, wisdom prepares to leave."
― Pawan Mishra, Coinman: The Untold Conspiracy
---
"Where there is anger there is always pain underneath."
― Eckhart Tolle
---
"Anger is useful only to a certain point. After that, it becomes rage, and rage will make you careless."
― Lauren Oliver
---
"The trouble with anger is, it gets hold of you. And then you aren't the master of yourself. Anger is."
― Jeanne DuPrau
---
"Anger hurts the one who is possessed by it more than the one against whom it is directed."
― Carl Sandburg
---
"Anger only gets in the way."
― Katherine Applegate
---
"It's futile to talk reason to anger."
― Bangambiki Habyarimana
---
Also Read: 5 Signs of Repressed Anger and How You Can Process It
---
"Letting go of anger frees us to connect with more of our vital energy."
― Kristi Bowman
---
"The only person you hurt when you stay angry or hold grudges is you. Forgive everyone, including yourself."
― Tom Giaquinto
---
"Consciously feel the energy behind your anger and it will calm you down."
---
"We can achieve more in a moment of compassion than in an hour of anger."
― Sam Owen
---
"Forgiveness will show your wisdom. Anger will only show your immaturity."
― Anthony T.Hincks
---
"When you are angry — stop, breath, relax, step back, think, and forgive before you react."
– Debasish Mridha
---
"A little more compassion and a little less anger is what most of us need."
– Wayne Gerard Trotman
---
"Every thought, word, and action plants seeds in the garden of your life. Are you planting seeds of love, compassion, peace, or those of anger, resentment and dissatisfaction? Choose wisely and tend your garden well."
– John Bruna
---
So take a deep breath and remember the words of Thich Nhat Hanh: "Smile, breathe, and go slowly", Use that anger and turn it into something amazing, that will help build you up and not just leave you a mean ball of stress.
Also Read: 47 Positive Quotes To Help You Conquer Your Fears.