Learning is the crux of life and there is a lot you can learn from the lives of famous personalities who are blessed with introspective minds. In this article, lets have a look at a few thought provoking quotes from dancers.
The following is a collection of 25 inspirational quotes from some of the most famous dancers in history along with the life lesson each quote is trying to convey.
Lesson 1: Focus on what you can instead of what you can't.
"Some men have thousands of reasons why they cannot do what they want to, when all they need is one reason why they can"
– Martha Graham, (Martha was an American modern dancer and choreographer who popularized modern dance.)
Lesson 2: Don't worry about what other people think of you.
"What people in the world think of you is really none of your business."
– Martha Graham
Lesson 3: Your passion is what matters.
"Nobody cares if you can't dance well. Just get up and dance. Great dancers are great because of their passion."
– Martha Graham
Lesson 4: Be true to yourself.
"You were once wild here. Don't let them tame you."
– Isadora Duncan (Isadora was an American dancer known as the 'Mother of Modern Dance'.)
Lesson 5: Get in touch with your inner intelligence.
"We have the capacity to receive messages from the stars and the songs of the night winds."
– Ruth St. Denis (American dancer and Cofounder of the 'American Denishawn School of Dancing and Related Arts'.)
Lesson 6: Don't be afraid to start over.
"If you're at a dead end, take a deep breath, stamp your foot, and shout "Begin!" You never know where it will take you."
– Twyla Tharp, The Creative Habit
Lesson 7: Do not fear, fear.
"There's nothing wrong with fear; the only mistake is to let it stop you in your tracks."
– Twyla Tharp, The Creative Habit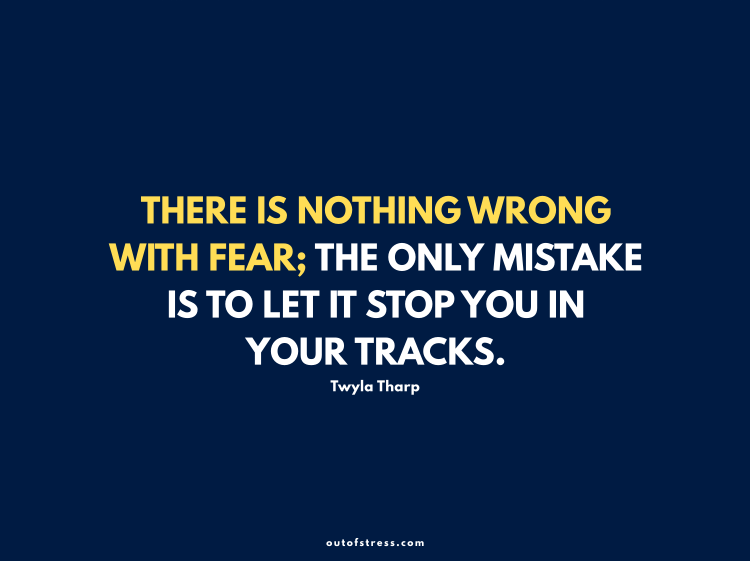 Lesson 8: Let go of perfectionism.
"Better an imperfect dome in Florence than cathedrals in the clouds."
– Twyla Tharp
Lesson 9: Do not compete with others and always be open to growth.
"I do not try to dance better than anyone else. I only try to dance better than myself."
– Mikhail Baryshnikov (Russian-American dancer and choreographer.)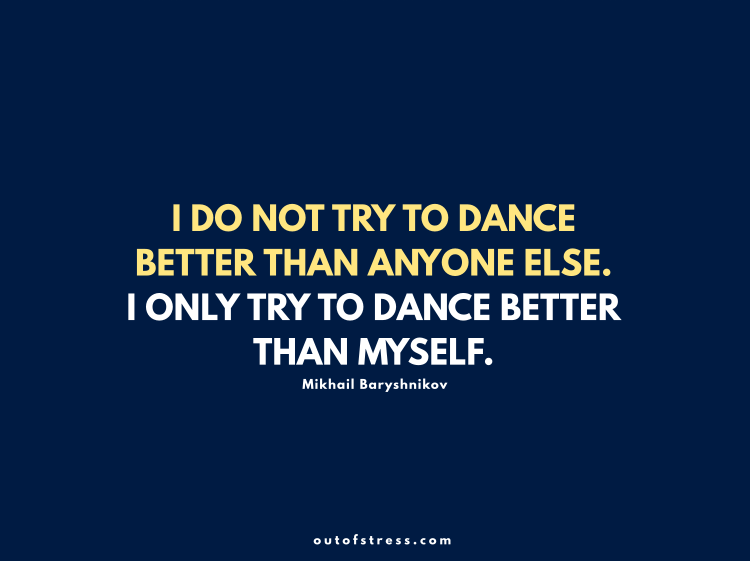 Lesson 10: Stay focused on your goals, not on distractions.
"To follow, without halt, one aim: There's the secret of success."
– Anna Pavlova (Russian prima ballerina and choreographer)
Lesson 11: Keep advancing slowly yet steadily toward your goals.
"I may not be there yet, but I am closer than I was yesterday."
– Misty Copeland (First African American Female Principal Dancer with the prestigious American Ballet Theatre.)
Lesson 12: Use failure as a stepping stone to success.
"Falling is one of the ways of moving forward."
– Merce Cunningham (American dancer who is known for developing new forms of abstract dance movements.)
Lesson 13: Don't be afraid of the unknown.
"Living is a form of not being sure, not knowing what next or how. The artist never entirely knows. We guess. We may be wrong, but we take leap after leap in the dark."
– Agnes De Mille
Lesson 14: Do not seek approval, become self validated.
"Dance for yourself. If someone understands, good. If not, no matter. Go right on doing what interests you, and do it until it stops interesting you."
– Louis Horst (Louis was a Choreographer, composer, and pianist.)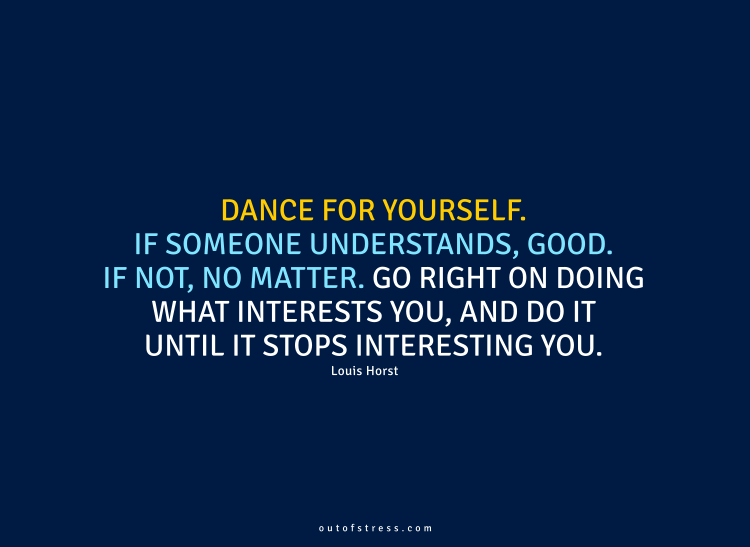 Lesson 15: Get in touch with your inner self.
"Learn the craft of knowing how to open your heart and to turn on your creativity. There's a light inside of you."
– Judith Jamison
Lesson 16: Keep it simple, let go of the inessentials.
"The problem is not making up the steps, but deciding which ones to keep."
– Mikhail Baryshnikov
Lesson 17: Be yourself.
Great artists are people who find the way to be themselves in their art. Any sort of pretension induces mediocrity in art and life alike.
– Margot Fonteyn (Margot was a English ballerina.)
Lesson 18: Take your work seriously, but never yourself.
"The most important thing I have learned over the years is the difference between taking one's work seriously and taking one's self seriously. The first is imperative, and the second disastrous."
– Margot Fonteyn
Lesson 19: Have strong believe in yourself.
"I knew that I just didn't have it in me to give up, even if I sometimes felt like a fool for continuing to believe."
– Misty Copeland
Lesson 20: Walk your own path.
"Knowing that it has never been done before makes me want to fight even harder."
– Misty Copeland
Lesson 21: Focus on yourself, not others.
"People have nothing to do and therefore they interfere with the life of others. I don't want to interfere with the life of others."
– Vaslav Nijinsky (Vaslav was a Russian ballet dancer.)
Lesson 22: Live in the present moment.
"The moment is everything. Don't think about tomorrow; don't think about yesterday: think about exactly what you're doing right now and live it and dance it and breath it and be it."
– Wendy Whelan (star ballerina)
Lesson 23: Life is a constant journey of discovery (learning).
"Dancing is just discovery, discovery, discovery — what it all means…"
– Martha Graham
Lesson 24: Always strive to become your greatest version.
"The only sin is mediocrity."
– Martha Graham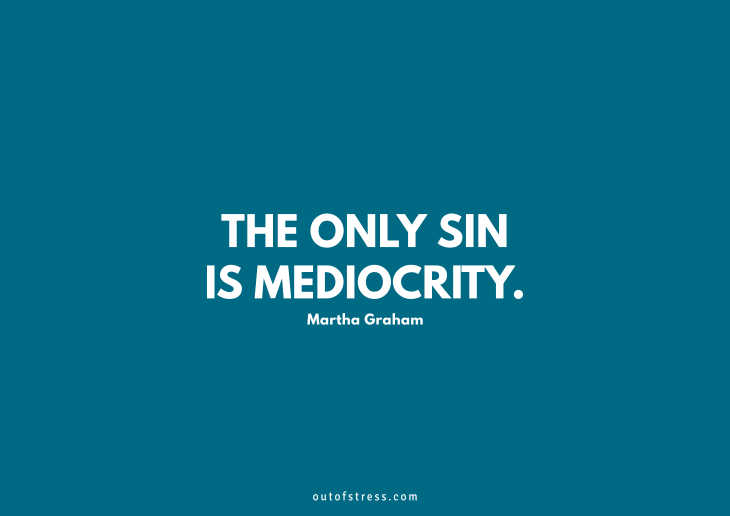 Lesson 25: Stand out. Do not try to fit in.
"You are unique, and if that is not fulfilled, then something has been lost."
– Martha Graham
Lesson 26: Practice makes perfect "I believe that we learn by practice. Whether it means to learn to dance by practicing dancing or to learn to live by practicing living."
– Martha Graham