If you are feeling a deep sense of meaninglessness or hollowness in your life, then one of the main reasons could be that you are not living life as your true authentic self. Or in other words, you are not being yourself.
Instead, you are wearing a mask in order to feel accepted by others around you. This mask in turn is wearing you down, making you feel jaded and dissatisfied with life. If you believe this is the case, then it's time to shed these masks and start embracing your true self.
This article is a collection of 101 powerful quotes that will help you in your quest to rediscover yourself again.
Quotes about embracing your true self
The following are 20 hand picked quotes that will show you the value that lies in embracing your true self and inspire you to start living more authentically.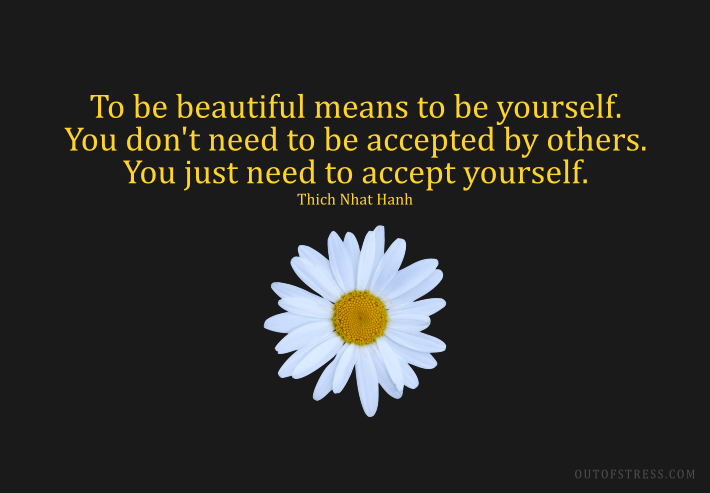 "To be beautiful means to be yourself. You don't need to be accepted by others. You need to accept yourself." – Thich Nhat Hanh
"Children always give this simple message: Be natural, be sincere, be yourself!" ― Mehmet Murat ildan
"The best thing you can gift yourself is the gift of being yourself." – Anonymous
"Once I began to realize that there were no rules and that my path didn't have to look like everyone else's, I relaxed and my whole world opened up." – G. Brian Benson
"It was only when I started to be myself that the music started to flow and people started to listen." ― Sam Smith
"Be you. It's life's best offer to others." ― Johnnie Dent Jr.
"You'll never know who you are unless you shed who you pretend to be." ― Vironika Tugaleva
"Be who you are and say what you feel, because those who mind don't matter, and those who matter don't mind." ― Bernard M. Baruch
"Whatever you did today is enough. Whatever you felt today is valid. Whatever you thought today isn't to be judged. Repeat the above each day." ― Brittany Burgunder
"Want to help others? Be yourself. You'll inspire others to muster the courage to be themselves as well." ― Kamand Kojouri
"Be You! It is so enchanting to see the beauty that radiates from someone freely expressing their uniqueness." ― Steve Maraboli
"Never complain, never explain. Resist the temptation to defend yourself or make excuses." ― Brian Tracy
"Those who have a strong sense of love and belonging have the courage to be imperfect." ― Brené Brown
"Stay true to yourself. An original is worth more than a copy." ― Suzy Kassem
"If life is a stage and you are your own agent, then don't hesitate to play the character you wish to play." ― Richelle E. Goodrich
"The greatest thing in the world is to know how to belong to oneself." ― Michel de Montaigne
"I think people get lost in becoming someone other than themselves when they spend too much time in the presence of those who don't bring out the best in them." ― Nikki Rowe
"Restyle your life forever by empowering yourself to incite the greatness in you." ― Kamal Khanzada
"When you are content to be simply yourself and don't compare or compete, everyone will respect you." – Lao Tzu, Tao Te Ching
"Always be yourself, express yourself, have faith in yourself, do not go out and look for a successful personality and duplicate it." – Bruce Lee
""You are a very special person. There is only one like you in the whole world. There's never been anyone exactly like you before, and there will never be again. Only you. And people can like you exactly as you are." – Fred Rogers
Quotes about not worrying about other people's opinions
It's hard for you to be yourself when you are too concerned about other people's opinions. When you give too much value to other people's opinions, you essentially give your power away to them and your life starts to mold as per their likes and wants.
This is why, it is crucial that you break free of this limiting habit. The following quotes will inspire you to take this positive step toward becoming your true self.
"We must not allow other people's limited perceptions to define us." ― Virginia Satir
"You can never be free of their criticism until you no longer seek their praise." – Dennis Ruane
"I'm not in this world to live up to your expectations and you're not in this world to live up to mine." ― Bruce Lee
"Dance above the surface of the world. Let your thoughts lift you into creativity that is not hampered by other people's opinion." ― Red Haircrow
"Stop minding other people's business. What they are thinking about you is their business. Don't mind it. Be focused." ― Israelmore Ayivor
"Not caring is absolute freedom, and if you own it, all the way, it emits supreme confidence." ― A.D. Aliwat, Alpha
"Live like you want, not how others want you to live." ― anonymous
"You don't need anybody to tell you who you are or what you are. You are what you are!" ― John Lennon
"I found I was more confident when I stopped trying to be someone else's definition of beautiful and started being my own." ― Remington Miller
"Don't be afraid of being yourself, but be afraid of being somebody else." ― Ben Tolosa
"Always listen to yourself… It is better to be wrong than simply to follow convention." ― Bryce Courtenay
"Don't let others box you into their idea of what they think you should be. A confined identity is a miserable way to exist. Be you and live free. Trust that in living true to yourself, you will attract people that support and love you, just as you are." ― Jaeda DeWalt
"Don't waste your time being what someone wants you to become, in order to feed their list of rules, boundaries and insecurities. Find your tribe. They will allow you to be you, while you dance in the rain." ― Shannon L. Alder
"Once you embrace your value, talents and strengths, it neutralizes when others think less of you." ― Rob Liano
"Be yourself. Don't worry about what other people are thinking of you, because they're probably feeling the same kind of scared, horrible feelings that everyone does." ― Phil Lester
"Do your own thing on your own terms and get what you came here for." – Oliver James
Quotes on becoming self validated
The ultimate form of validation is self validation. When you approve of yourself, you do not need approval from others and hence you can be your true authentic self. You no longer need to put on this fake persona just to get approval from others.
The following quotes will inspire you to stop seeking approval and start self-validating yourself.
"Stop trying to convince people to like you. Just be yourself." ― Akiroq Brost
"The more you try to please people, the more they get control of you and you'll end up hurting yourself." ― Chanda Kaushik
"Um, enough apologies, okay? Just get on with being your badass self." ― Scott Stabile
"Don't change so people will like you – Be Yourself and the right people will love the Real You." – Anonymous
"You've been criticizing yourself for years and it hasn't worked. Try approving of yourself and see what happens."― Louise Hay
"A truly strong person does not need the approval of others any more than a lion needs the approval of sheep." ― Vernon Howard
"I do not seek the approval of people who do not approve of me." ― Maria Koszler
"Freedom on the inside comes when validation from the outside doesn't matter." ― Richie Norton
"Never waste any moment of your life seeking approval or acceptance from people. They are not your creator." ― Edmond Mbiaka
Quotes about accepting your uniqueness
We live in a society that is always teaching us to fit in and follow the crowd. Yet the only people who have ever achieved anything in life are the ones who dared to stand out. Who chose to take the path less traveled instead of being a mere sheep who follows others without questioning.
The following quotes will inspire you to accept and celebrate your uniqueness.
"Only someone wishing to disappear would ever strive to 'fit in'." ― Shaun Hick
"You have to do stuff that average people don't understand because those are the only good things." ― Andy Warhol
"You laugh at me because I'm different, I laugh at you because you're all the same." ― Jonathan Davis
"Oh, never mind the fashion. When one has a style of one's own, it is always twenty times better." ― Margaret Oliphant
"In order to be irreplaceable, one must always be different." ― Coco Chanel
"The things that make me different are the things that make me." ― A. A. Milne
"So you're a little weird? Work it! A little different? OWN it! Better to be a nerd than one of the herd!" ― Mandy Hale
"weird is good. Normal is overrated".
Quotes about embracing your flaws
"I, myself, am made entirely of flaws, stitched together with good intentions." ― Augusten Burroughs
"You know your flaws, don't hide them. Embrace them." ― Anonymous
"Nobody is wired wrong because there's no wrong and right in the way we are." ― Hannah Hart
"Just be yourself. Let people see the real, imperfect, flawed, quirky, weird, beautiful, magical person that your are." ― Mandy Hale
"Don't you ever let a soul in the world tell you that you can't be exactly who you are." ― Lady Gaga
"I think everybody's weird. We should all celebrate our individuality and not be embarrassed or ashamed of it." ― Johnny Depp
"The only people worthy of consideration in this world are the unusual ones. For the common folks are like the leaves of a tree, and live and die unnoticed." ― L. Frank Baum
"I care for myself. The more solitary, the more friendless, the more unsustained I am, the more I will respect myself." ― Charlotte Brontë, Jane Eyre
"I'm completely fine with being weird…it keeps me from getting bored with myself." ― Kristy Pellegrin
"Don't worry if people think you're crazy. You are crazy. You have that kind of intoxicating insanity that lets other people dream outside of the lines and become who they're destined to be." ― Jennifer Elisabeth
"Imperfection is beauty, madness is genius and it's better to be absolutely ridiculous than absolutely boring." – Marilyn Monroe
Quotes on loving and accepting yourself as you are
"We're all a beautiful, wonderful work in progress….Embrace the process!" ― Nanette Mathews
"When your own approval means more than the approval of others, that is self-love." ― Vironika Tugaleva
"How you love yourself is how you teach others to love you." ― Rupi Kaur
"The most powerful relationship you will ever have is the relationship with yourself." – Steve Maraboli
Normal is whatever you are. – Stephen Cosgrove, Leo the Loop
"Love yourself and everything else will fall into place." – G. Brian Benson
"I am my own experiment. I am my own work of art." ― Madonna
"Self love is the elixir of an immortal heart." ― Amy Leigh Mercree
"Lighten up on yourself. No one is perfect. Gently accept your humanness." ― Deborah Day
"When you stop living your life based on what others think of you, your real life begins. At that moment, you will finally see the door of self acceptance opened." ― Shannon L. Alder
"If you do not respect your own wishes, no one else will. You will simply attract people who disrespect you as much as you do." ― Vironika Tugaleva
Also read: 5 ways to boost self love.
Short one liner quotes about being yourself
"I'd rather die my way than live yours." ― Lauren Oliver
"Be one with yourself and revel in eternal bliss." ― A.D. Posey
"Do not wish to be anything but what you are, and try to be that perfectly." ― St Francis de Sales
"Be yourself; accomplish miracles." ― A.D. Posey
"Be yourself., you are truer than you think." ― Lailah Gifty Akita
"Don't compromise yourself – you're all you have." – John Grisham
"Be yourself to free yourself! You are amazing." – G. Brian Benson
"Change nothing, just be yourself to experience peace." – Tapan Ghosh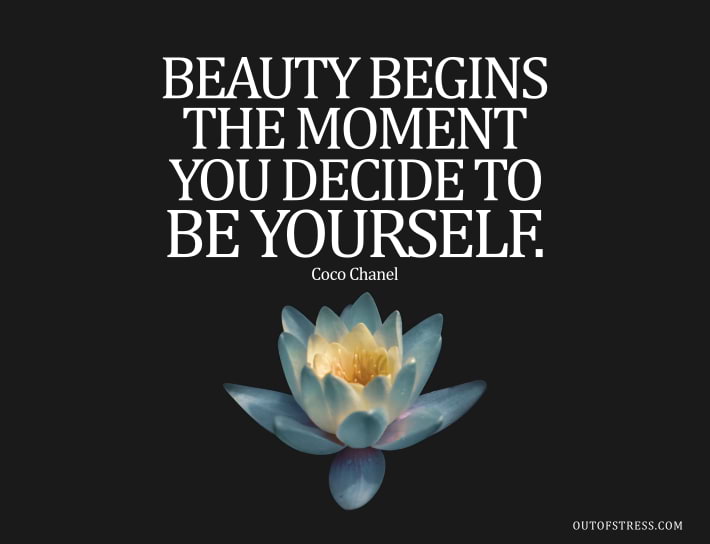 "Beauty begins the moment you decide to be yourself." – Coco Chanel
"people are intimidated by people they cannot imitate." – Johnnie Dent Jr.
"I looked for company and I found myself." – Pushpa Rana
"Never forget the child inside." – Ashton Irwin
"I think the reward for conformity is that everyone likes you except yourself." – Rita Mae Brown
"Come out of hiding, don't be afraid to be yourself." – E'yen A. Gardner
Funny and light-hearted quotes on being yourself
And finally, here are some light-hearted quotes about being yourself. Even though these quotes seem light-hearted, they still carry a very inspirational message.
"Today is the perfect day to do something daring. Like just be yourself, for instance." ― Scott Stabile
"Shine with all you have. When someone tries to blow you out, just take their oxygen and burn brighter." ― Katelyn S. Irons
"You are you. Now, isn't that pleasant?" ― Dr. Seuss
"I don't do normal. I have a reputation to uphold. (Thwonk)" ― Joan Bauer
"Be yourself – and make the world adjust!" ― Germany Kent
"Never apologize for burning too brightly or collapsing into yourself every night. That is how galaxies are made." ― Tyler Kent White
"The one thing that you have, that nobody else has, is YOU". – Neil Gaiman
"Today you are You, that is truer than true. There is no one alive who is Youer than You." – Dr. Seuss
"If they don't like you for being yourself, be yourself even more." ― Taylor Swift
"I don't wear the opinions of others anymore, I learnt to dress myself." ― Nikki Rowe
"Do not strive to be perfect. Strive to be perfectly imperfect." ― Imania Margria
"Stop trying to be Perfect; And that makes you kosher Perfect." ― Mohith Agadi
"Be yourself; everyone else is already taken." ― Oscar Wilde
"You can't color your world with someone else's paint." ― Israelmore Ayivor
"Just be you. I'll be me. And we'll meet somewhere in the middle." ― Claire Cullen
Being your true authentic self is true power. You no longer expend energy in putting on fake masks and focus it on creating a life that you love. Hopefully these quotes encouraged you take this life changing step today!