From a very young age, we are encouraged to socialize, make friends, form groups and follow authority.
Staying alone is frowned upon. It is associated with the state of loneliness – a depressed state to avoid at all costs. It is also sometimes associated with monkhood – a state reserved for a select few and hence not something a normal person should pursue.
If human beings are social creatures, and require social contact, they also have a need to isolate and stay with themselves to bring a balance in their lives. But no one teaches us the value of isolation and self reflection.
It is no wonder that most of us dread being alone with ourselves. In fact, according to a study, people were open to receiving a mild electric shock as opposed to sitting alone in a room with their thoughts.
The power of solitude
Solitude or being alone with our thoughts (without distractions) is the foundation of self reflection and deeper understanding of our own selves and the universe. This is why spending time with ourselves is something that every one of us should consider pursuing (irrespective of if or not we are inclined towards introversion or extroversion).
Insightful Quotes On Spending Time Alone
The following are some deeply insightful quotes by some great thinkers on the value of spending time alone with yourself and transformative power it holds.
---
"Our society is much more interested in information than wonder, in noise rather than silence. And I feel that we need a lot more wonder and a lot more silence in our lives."
– Fred Rogers
---
"We need solitude, because when we're alone, we're free from obligations, we don't need to put on a show, and we can hear our own thoughts."
~ Tamim Ansary, West of Kabul, East of New York: An Afghan American Story.
---
"To have passed through life and never experienced solitude is to have never known oneself. To have never known oneself is to have never known anyone."
~ Joseph Krutch
---
"The holiest of all holidays are those Kept by ourselves in silence and apart; The secret anniversaries of the heart."
– Henry Wadsworth Longfellow
---
"Loneliness is the poverty of self; solitude is richness of self."
― May Sarton, Journal of a Solitude
---
"Fall in love with your solitude."
― Rupi Kaur, Milk and Honey
---
"I never found a companion that was so companionable as solitude."
~ Henry David Thoreau, Walden.
---
"Your solitude will be a support and a home for you, even in the midst of very unfamiliar circumstances, and from it you will find all your paths."
~ Rainer Maria Rilke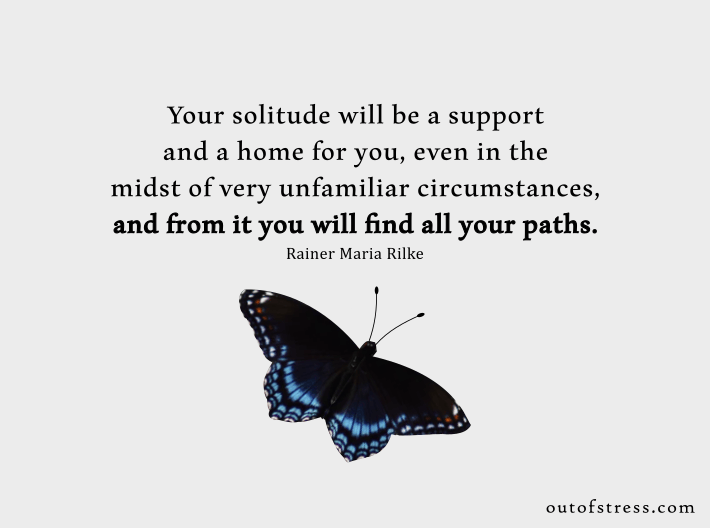 ---
"Blessed are those who do not fear solitude, who are not afraid of their own company, who are not always desperately looking for something to do, something to amuse themselves with, something to judge."
~ Paulo Coelho
---
"In the silence we listen to ourselves. Then we ask questions of ourselves. We describe ourselves, and in the quietude we may even hear the voice of God."
– Maya Angelo, Even The Stars Look Lonesome.
---
"The true way of knowing yourself includes neither self-praise nor self-blame, but only a wise silence."
– Vernon Howard
---
"When I am completely by myself, entirely alone or during the night when I cannot sleep, it is on such occasions that my ideas flow best and most abundantly. Whence and how these ideas come I know not nor can I force them."
~ Wolfgang Amadeus Mozart
---
"In order to be open to creativity, one must have the capacity for constructive use of solitude. One must overcome the fear of being alone."
― Rollo May, Man's Search for Himself
---
"A man can be himself only so long as he is alone; and if he does not love solitude, he will not love freedom; for it is only when he is alone that he is really free."
~ Arthur Schopenhauer, Essays and Aphorisms.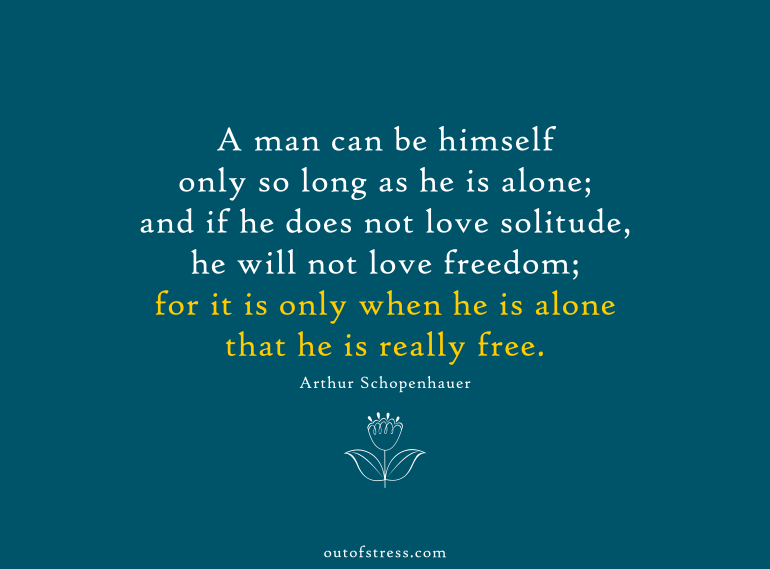 ---
"How can you hear your soul if everyone is talking?"
― Mary Doria Russell, Children of God
---
"But many of us seek community solely to escape the fear of being alone. Knowing how to be solitary is central to the art of loving. When we can be alone, we can be with others without using them as a means of escape."
~ Bell hooks
---
"People are always so boring when they band together. You have to be alone to develop all the idiosyncrasies that make a person interesting."
~ Andy Warhol
---
"Men without the aptitude or opportunity for solitude are mere slaves because they have no alternative but to parrot culture and society."
~ Friedrich Nietzsche
---
"The more powerful and original a mind, the more it will incline towards the religion of solitude."
~ Aldous Huxley
---
"I find it wholesome to be alone the greater part of the time. To be in company, even with the best, is soon wearisome and dissipating. I love to be alone."
~ Henry David Thoreau
---
"I go into solitude so as not to drink out of everybody's cup. When I am among the many I live as the many do, and I do not think I really think. After a time it always seems as if they want to banish my self from myself and rob me of my soul."
~ Friedrich Nietzsche
---
"Shakespeare, Leonardo da Vinci, Benjamin Franklin and Abraham Lincoln never saw a movie, heard a radio or looked at television. They had 'Loneliness' and knew what to do with it. They were not afraid of being lonely because they knew that was when the creative mood in them would work."
– Carl Sandburg
---
"Many people suffer from the fear of finding oneself alone, and so they don't find themselves at all."
― Rollo May, Man's Search for Himself
---
It is necessary now and then for a man to go away by himself and experience loneliness; to sit on a rock in the forest and to ask of himself, 'Who am I, and where have I been, and where am I going?' . . . If one is not careful, one allows diversions to take up one's time—the stuff of life."
– Carl Sandburg
---
"In order to understand the world, one has to turn away from it on occasion."
– Albert Camus
---
"The greatest thing in the world is to know how to belong to oneself."
― Michel de Montaigne, The Complete Essays
---
"I would rather sit on a pumpkin, and have it all to myself, than be crowded on a velvet cushion."
― Henry David Thoreau
---
"I live in that solitude which is painful in youth, but delicious in the years of maturity."
― Albert Einstein
---
"When you cease to fear your solitude, a new creativity awakens in you. Your forgotten or neglected wealth begins to reveal itself. You come home to yourself and learn to rest within."
– John O'Donohue
---
"You cannot be lonely if you like the person you're alone with."
― Wayne W. Dyer
---
"To be left alone is the most precious thing one can ask of the modern world."
― Anthony Burgess
---
"Certainly work is not always required of a man. There is such a thing as a sacred idleness, the cultivation of which is now fearfully neglected."
― George Mac Donald, Wilfrid Cumbermede
---
"I think one travels more usefully when they travel alone, because they reflect more."
― Thomas Jefferson, The Papers of Thomas Jefferson, Volume 11
---
"Spend time alone and often, touch base with your soul."
~ Nikki Rowe
---
"Quiet reflection is often the mother of deep understanding. Maintain that peaceful nursery, enabling stillness to speak."
~ Tom Althouse
---
"The best lessons of life are learnt in silence and solitude."
~ Abhijit Naskar
---
"Sometimes you just have to turn off the lights, sit in the dark, and see what happens inside of you."
~ Adam Oakley
---
"Solitude is where I place my chaos to rest and awaken my inner peace"
~ Nikki Rowe
---
"Thoughts are our inner senses. Infused with silence and solitude, they bring out the mystery of inner landscape."
– John O'Donohue
---
Also Read: 9 Inspirational Self Reflection Journals To Help You Rediscover Yourself