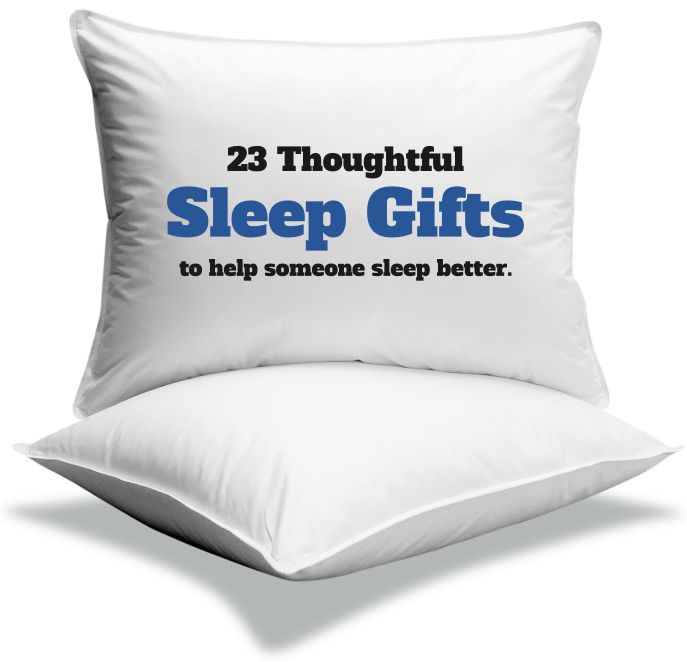 ---
Disclaimer: This article contains affiliate links, which means we get a small commission for purchases through links in this story (with no extra cost to you). As an Amazon Associate we earn from qualifying purchases. Click here to know more.
---
A blissful night's sleep is the most precious thing you can get in life.
Sleep rejuvenates and restores your body, mind and spirit. It is deeply healing.
This is why the gift of sleep is a really wonderful gift you can give to your loved ones especially if they are going through a phase where they are having a hard time sleeping.
Here are 59 sleep gifts you can give your loved ones to help them sleep better.
1. Wrap-a-Nap Sleep Mask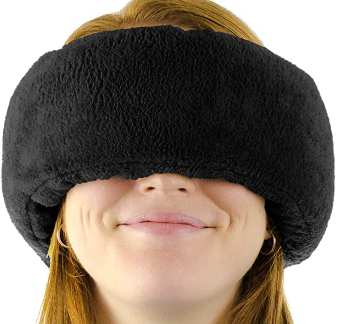 Wrap-a-Nap is a large soft and cushy sleep mask that is designed to block out 100% of the light, muffle external sounds and also act as a mini pillow. It also snuggly wraps around your head and can help lower headaches.
Can make for a great gift for someone who is a light sleeper.
2. Wireless Bluetooth Headband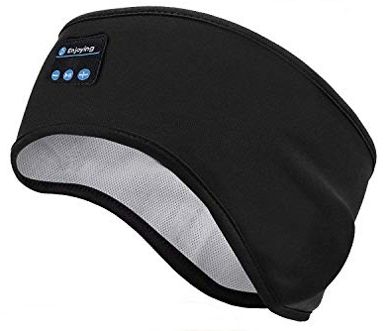 Listening to relaxing audio is a one of the most effective ways to fall asleep. But that is not possible with conventional headphones. This is where these wireless Bluetooth headbands come in. These wireless headbands offer you a convenient way of listening to music in bed whether you are a back, side or stomach sleeper.
You can connect this headband to your phone (via Bluetooth) and listen to your favorite audio (that helps you sleep). This can be relaxing music, audio books, guided meditation, sleep hypnosis, binaural beats, delta waves or your favorite sleep app. You can even block out noise by listening to whitenoise.
This headband is lightweight and breathable so you wouldn't even notice wearing it while sleeping. These are easy to charge and fully washable (after taking out the Bluetooth module). Definitely the perfect gift for anyone who is having difficulty sleeping.
3. The Nocturnal Journal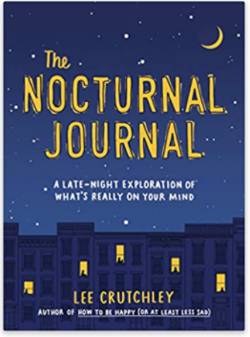 The Nocturnal Journal is filled with fun as well as thoughtful prompts and illustrations that will help clear the mind and calm you down for a good night's sleep. This journal aids self reflection and can also help you explore the root cause behind your sleep troubles.
This can make for a great gift for journal lovers and for someone who struggles with night time anxiety.
4. Aromatherapy Essential Oil Diffuser & Night Light
There are many essential oils like Lavender, Chamomile, Bergamot, Sandalwood and Ylang Ylang that help calm your mind and promote sleep. A diffuser like this one helps diffuse these oils in the air during the night to aid sleep. Plus, they also double as humidifiers and can help humidify the air especially during dry winter months which again helps you breathe easy which promotes sleep.
This diffuser in particular comes with a large tank (for many hours of aromatherapy), auto shut off feature, high/low mist settings and even doubles as a relaxing night light.
5. Buddha's Book Of Sleep
The 'Buddha's Book of Sleep' is a book dedicated to the art of sleeping. This book is divided into two sections; the first one talks in-depth about spiritual practices like meditation and how they can be used to promote sleep. The second section offers a range of easy to do exercises (that you can do right before bedtime) so you start to experience deep, restful sleep.
This is the perfect book to have by your bedside table and can make for a great addition to a sleep care gift basket.
6. Hatch Restore – Sleep Light & Alarm
Hatch Restore has a 3 amazing features to enhance your sleep. Firstly, it works as a relaxing reading light without the blue hues that can disturb sleep. Secondly, it has a 'sunrise alarm' feature that wakes you up by gradually brightening your room before the actual alarm rings.
Thirdly, you can also use this as a white noise machine. You get to choose from an expansive content library of guided meditations, relaxing music, bedtime stories etc. that can help you sleep.
Anyone having sleep troubles will definitely benefit a lot from a gift like this.
7. Theraflow Foot Massager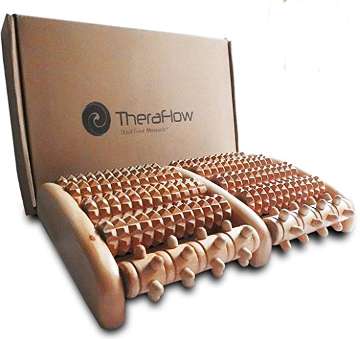 TheraFlow works on the principle of reflexology. Slowly gliding your feet on the 10 independent rollers will help soothe and relax not only your feet but also your entire body helping you sleep better.
8. Lavender Bath Spa Gift Set
This beautifully put together gift set contains lavender essential oils, bubble bath, shower gel, body lotion, bath salt and sponge all packed inside a beautiful bath tub shaped container which is reusable. Lavender has been known to soothe and relax the mind and body and hence this gift set can make for the perfect sleep gift.
9. Sleep Tight Cards
This is a set of 45 cards each with a unique exercise or visualization technique to help you relax and ease the process of falling asleep. The exercises help you become calm and centered.
Here's an example of a sleep card: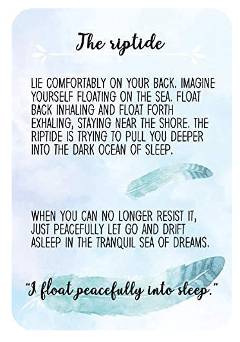 A great set of cards to keep by your bedside table and refer to anytime you feel sleep evading you.
10. Sound Sleep Pillow Spray
This pillow spray contains the gentle, soothing scent of real lavender. Spraying this on your pillow before bedtime helps you relax and opens air passages for a deep restful sleep. The scent is mild and lingers throughout the night. Can make a great addition to a gift basket.
11. Blackout Curtains
These are thick and heavy curtains that contain two separate layers to help block 100% of the light so your room is entirely dark as you sleep. In addition, these curtains also have thermal properties that help keep the heat out during summer and the chill out during winter. They also help reduce noise to some extent.
These curtains can make for an excellent gift for someone who works shifts and has to sleep during the day.
12. Smart Neck Massager
This neck massager uses low-frequency electric pulses and soothing heat to deeply relax your muscles, promote circulation and relieve neck and shoulder aches. It has 3 motion settings and many different speed settings to choose from. A really effective way to deeply relax and unwind before bedtime.
13. Gel-O Cool Pillow Mat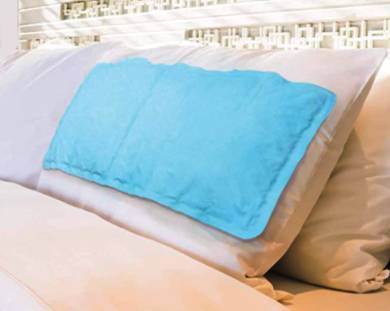 The Gel-O Cool mat uses high quality gel that stay cool even without refrigeration. This mat can be placed right over your pillow (or beneath the pillow cover) to experience instant cooling. You can even refrigerate it to increase the cooling effect.
This can make for an excellent mat for hot sleepers and someone suffering from hot flashes and night sweats.
14. Cooling Throw Blanket
Made from lightweight and soft bamboo fiber, this throw blanket offers excellent ventilation and will keep you cool and sweat free. This is not as light as a sheet and not as heavy as a regular blanket.
This can make a great gift for someone who cannot sleep without a cover even during the hot months.
15. Warmies – Microwavable Soft Toy
Warmies is a microwavable plush toy that is filled with natural grains and dried Lavender. Hugging this weighted toy can induce relaxation and also help relieve cramps, headaches and body aches. When heated for around a minute the toy gets really warm and gives off a soothing aroma of lavender that can be very calming.
This toy can be used by kids and adults alike and can make for a really cute gift.
16. Silicone Ear Plugs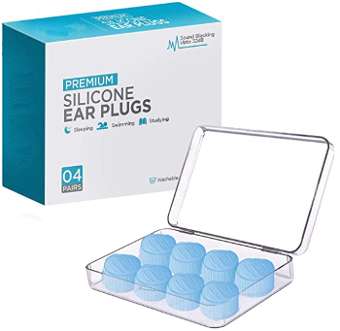 The benefit of using a silicone ear plug as opposed to a standard foam ear plug is that they mold into your ears and hence feel like a custom fit. This also means that they won't fall out in the middle of the night. Plus, they do not hurt your ears and can be really comfortable for side sleepers. They are also better at noise cancellation.
Another advantage is that they are washable and hence reusable.
17. Lavender and Cedarwood Sleep Cream
This sleep cream contains Lavender and Cedarwood essential oils both of which help induce calm and relaxation promoting sleep. Use this cream right before bedtime and it will not only aid sleep but also moisturize and nourish your skin. This will make for a perfect addition to a sleep gift basket.
20. Sunbeam Heated Mattress Pad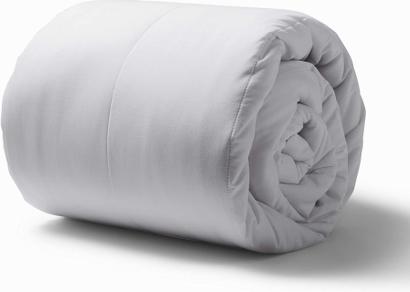 A heated mattress pad will keep you toasty and warm throughout the night ensuring a good night's sleep during the winter months. Plus it also helps save big on the heating costs.
This sunbeam mattress pad in particular comes with 10 heat settings and dual controllers for each side of the bed so each person can set it to a temperature they prefer without annoying the other. This can make for a really thoughtful gift for a cold sleeper.
21. Heated Throw Blanket
This electric throw blanket features fast-heating design and evenly distributed wires for quick and even heating. You also get 10 heat settings and auto shut off after 1, 2 or 3 hours. Made from flannel material, this blanket feels very soft and comfy.
Similar to the mattress pad, this can make for an excellent gift for someone who is always cold and has a hard time sleeping because of it.
22. Weighted blankets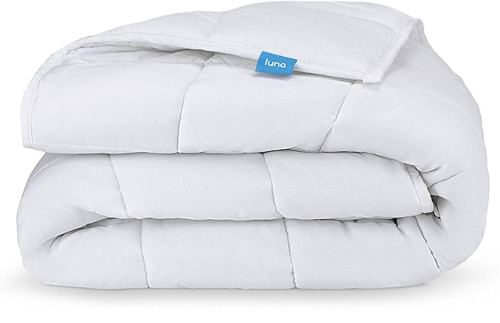 Weighted blankets can make for a great gift for anyone who is having a hard time sleeping because of anxiety issues.
They exert mild pressure on your body (also know as Deep Pressure Stimulation) that helps relax your nervous system and create a sense of calmness and security, which in turn helps you sleep better.
This weighted blanket from LUNA is made from 100% organic cotton and is filled with premium-grade glass beads that are woven into small pockets to create an even distribution of weight.
Note: This blanket does not come with a duvet cover so you will need to buy that separately.
23. Memory Foam Knee Pillow For Side Sleepers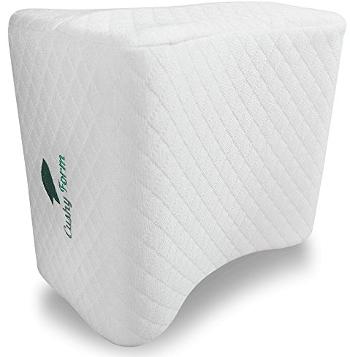 If your recipient is a side sleeper then they are bound to fall in love with this knee pillow. This pillow can be placed between the knees (while sleeping on your side) and in doing so, it elevates your upper knee which can help reduce pressure on your hips and lower back making you feel relaxed and pain free. This also helps improve circulation and provides proper spine alignment.
Overall this pillow can greatly enhance your sleep if you are a side sleeper.
24. Blue Light Blocking Glasses
Exposure to blue light from TV, mobile, and computer screens can hinder your body's natural production of melatonin which can cause sleep related issues. Blue light can also cause eye strain and even headaches all of which impact your sleep negatively. One of the easiest ways to block blue light from entering your eyes is to wear blue light blocking glasses.
These glasses from ANRRI come with UV ray filters and can block 90% of blue light. In-fact, these glasses come with a blue light torch so you can test for yourself if or not they work. So if your recipient spends a lot of time staring at computer screens, this would make for a very thoughtful gift.
25. Lavender Eye Pillows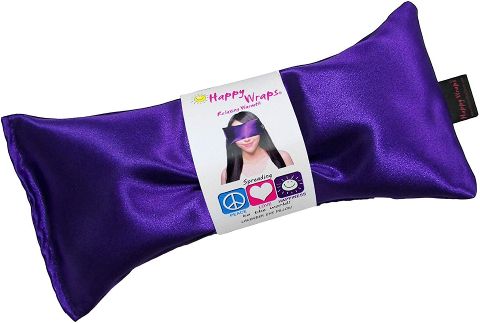 This eye pillow is filled with organic flax seeds and whole lavender buds. The flax seeds offer gentle pressure and the scent of lavender helps calm your mind and body. You can use this eye pillow as a warm eye mask by microwaving it for around 30 seconds. This can help with headaches, migraines, dry eyes, resting and relaxation.
You can also use it as a cold eye mask by placing the pillow in the freezer (wrapped in a plastic bag) for a few hours. This can help relax your eyes and make you feel fresh and rejuvenated. This eye pillow comes with a soft luxurious silky satin cover that is deeply comforting to your eyes.
26. Yogi Tea – Soothing Caramel Bedtime
Yogi bedtime tea contains the right combination of relaxing herbs like Chamomile Flower, Rooibos and L-Theanine that help you relax and unwind so you can experience good quality sleep. This tea is caffeine free, gluten free and contains no artificial flavors or sweeteners. Plus, it comes in Eco friendly tea bags.
Making this tea is simple. All you need to do is bring water to boil and steep a tea bag for around 7 minutes and your tea is ready. Drink this tea an hour before bedtime for the best results.
If your recipient loves tea, then this can make for the perfect gift.
27. Good Sleep Essential Oil Blend
This essential oil blend contains a combination of sage, copaiba and lavender oils that can help relax your senses and enhance your sleep quality. You can put a few drops (2 to 3 drops) of this oil in your aromatherapy diffuser an hour before going to sleep, or put a few drops in a spray bottle and spray it on your pillow and/or sheets.
If you want, you can even mix it with a carrier oil (olive, almond or coconut oil) and rub on your chest/feet. Although, make sure to do your research on how to correctly mix essential oils with carrier oils before attempting this.
This product can make for the perfect gift along with the aromatherapy diffuser.
28. Vive Full Body Acupressure Mat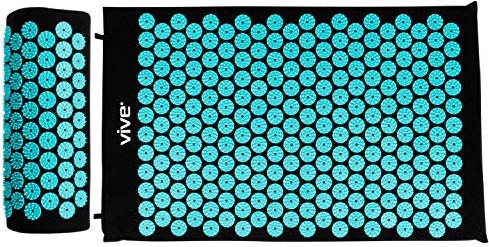 Acupressure has been used since ages to relieve stress/tension/pain, improve circulation, relax muscles, enhance healing and aid sleep and restoration. This acupressure mat from Vive allows you to experience all the benefits of an acupressure massage at home.
This mat has 210 discs, each with 27 pressure points (so a total of 5670 pressure points) evenly spread throughout the mat that massage and stimulate your entire back, relaxing muscle tissues, improving circulation and lymphatic flow. The mat also comes with a half dome pillow that has 1,782 pressure points. You can position this pillow under your neck to relieve neck and shoulder pain.
For better sleep, consider lying on this mat for 10 to 15 minutes before going to bed. This will deeply relax your mind and body and promote sleep.
29. Red LED Night Light for Bedrooms & Bathrooms
Sometimes you need to use the bathroom in the night and switching on the main light can disturb your sleep rhythm. Once you go back to bed, you no longer feel sleepy or take a long time to fall asleep again.
You can avert this situation by using these cool red LED night lights. For one, red lights have low color temperature and do not alter your body's internal sleep clock. Secondly, these lights give you enough visibility without being super bright. You can use these lights in your bathroom, hallways and even your bed room.
The best part about these lights is that they automatically shut off when exposed to day light and switch on in the night. So you don't need to manually shut them off and switch them on every time. These lights come in a pack of 2 and can make for a nice sleep gift.
30. Electric Handheld Scalp Massager
A relaxing head massage right before bedtime can help promote deep sleep. This handheld massager allows you to do just that.
This massager creates gentle vibrations that help improve blood circulation, relieve tension and promote relaxation.
The best part is that this massager is waterproof, so you can use it right in the shower. A warm shower right before bedtime using this massager will deeply relax your mind and body, promoting sleep.
31. Full Body Vibrating Massage Pad with Heat
This is a full body massager that has 10 vibration heads and a heat function to stimulate different
areas of your body. It comes with many massage modes and intensity options to help you get the massage you desire.
Plus, this massager is made using memory foam and hence is super comfortable to lay on.
Spending around 5 to 10 minutes laying on this massager right before bedtime is a great way to relax your entire body and prepare yourself of a good night's rest.
32. Adjustable Shredded Memory Pillow
Wouldn't it be great if you could customize your pillow to your liking? A pillow that is of the perfect height and has the right amount of hardness/softness. That is exactly what this adjustable memory foam pillow allows you to achieve.
This pillow comes with shredded memory foam that you can add or remove to adjust the pillow height to your liking. In addition, this pillow also offers great ventilation throughout the night because of the finely shredded memory foam that does not trap heat and allows free flow of air. This pillow also comes with a breathable cover that is fully washable.
Overall, a great pillow for that perfect night's sleep.
33. Celestial Seasonings Herbal Tea
This herbal bedtime tea contains the perfect blend of two herbs that are known to be most effective when it comes to sleep and relaxation – Chamomile and Valerian Root.
All you need to do to make this tea is steep a tea bag in hot water for around 4 to 6 minutes. Drinking this tea 30 minutes to an hour before bedtime can help promote deep sleep.
This tea is made from 100% natural ingredients and is free from caffeine, artificial flavors and preservatives.
Each pack contains 20 string-less tea bags.
34. Shiastu Kneading Neck Massager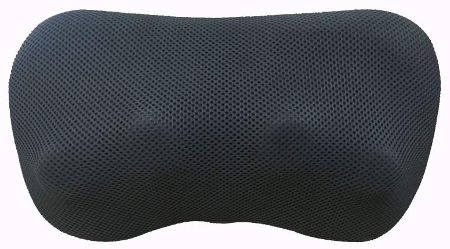 During the day, a lot of tension gets accumulated in and around your neck and shoulder areas (especially if you spend a lot of time sitting in front of a computer). These can cause pain and discomfort, hindering your sleep.
A neck massager is specifically designed to release this tension, remove knots, improve blood circulation and put the body in to rest and relaxation mode.
This neck massager (image above) comes with 4 kneading massage nodes, a heating function and various massage options to help you get the most relaxing neck massage.
You can use this for 5 to 10 minutes before bedtime to relax and calm down for a good night's sleep.
35. Neck Pillow Massager
This is an innovative neck pillow that also has a built-in massage function.
The massage is in the form of gentle vibrations that relax your muscles, improve circulation, removes cramps/aches and reduce fatigue. You also have a few massage settings to choose from.
The pillow is made of spandex fabric which is stuffed with eco-friendly 'sieva bean cotton' for added comfort and softness.
This device runs with 2 AA batteries.
36. White Noise Machine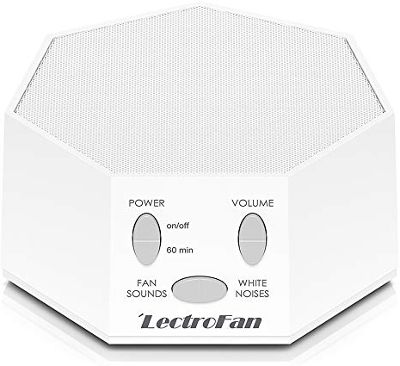 White noise machines help drown out untoward sounds that can disturb your sleep especially if you are a light sleeper (sensitive to noise). They are great at blocking environmental sounds like sounds created by barking dogs, flushing sounds, snoring, vehicular sounds, conversations and others with ease.
This sound machine by Lectrofan is capable of producing ten different fan sounds and ten noise variations that not only include white noise but also pink noise and brown noise which are highly effective at masking various types of sounds. You get options to adjust the volume and intensity of the sound to suite your needs.
Plus this machine does not come with prerecorded sounds, it creates sounds on the fly and hence the sounds are very natural and there is no looping.This is definitely the perfect gift for anyone who is a light sleeper and is having a hard time sleeping because of environmental sounds.
37. Dodow – Sleep Aid Device
The Dodow can make for a really unique sleep aid gift.
This device works by projecting a light beam onto the ceiling. The beam expands and retracts and all you need
to do is match your breathing to this changing pattern. Breathe-in slowly as the beam expands and breathe out as it retracts. Focusing on the beam helps shift your focus from your thoughts and the slow, deep breaths help you fall asleep a lot quicker.
38. Wireless Bluetooth Sleep Mask
This product is exactly similar to the above except that this is a sleep mask instead of a headband.
So not only can you listen to music, but you can also cover your eyes to block out all ambient light enhancing your sleep.
If your recipient likes sleeping with a sleep mask on then this would make for a better gift choice.
39. Padded Sleep Mask
Sleep masks are designed to block all ambient light which can help your body produce more melatonin resulting in better quality sleep. But sleep masks can often cause discomfort as they apply pressure on your eyes especially if you are a side or stomach sleeper. Plus they make it difficult to open your eyes or blink if need be.
But these sleep masks are a bit different – they are padded around the eyes. This means, your eyes feel free, and the padding creates a nice cushion around the eyes when sleeping on your side or stomach. The padding also ensures that all ambient light is blocked creating the perfect sleep environment. Plus this product comes with a fully adjustable buckle strap for ease of wear making this the perfect gift for anyone having sleep issues.
40. Lavender & Chamomile Aromatherapy Spray
Lavender and Chamomile help relax your mind and enhance sleep. This spray is the perfect blend of both these calming herbs making it super effective as a sleep aid.
You can spritz a bit of this spray on you pillow, sheets or even your face/body and you will find the scents will lull you to sleep. The scents are very mild and not overpowering.
41. Natural Himalayan Pink Salt Rock Lamps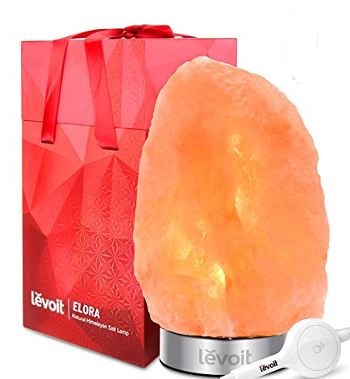 Although it has not been proven, many believe that salt lamps release negative ions into the atmosphere that can help offset the electromagnetic radiation emitted from electronic devices. Whether that is true or not, this salt lamp from Levoit is beautiful none the less.
This lamp has been made from hand-carved Himalayan rock salt and has various brightness settings making it perfect for a soothing night lamp. You can increase or decrease the brightness by merely touching the switch on the lamp. Similarly, this lamp has an one tap switch on/off feature. Plus it comes with a stainless steel base that prevents drainage and protects your furniture.
42. Wake-Up Light and Alarm Clock
If you are tired of waking up to crude alarm sounds then this device is exactly what you need.
This device uses a combination of light and sound to wake you up in the most natural way possible. Before the alarm goes off, the device starts to simulate the sunrise starting with mild red color and gradually going to a bright yellow color. This way, your body has time to start preparing to wake up.
You have an option to choose from a variety of soothing sounds to use as your alarm.
In addition to the alarm this device also helps you sleep by slowly dimming the lights and sounds easing you into sleep.
And this is not all, there are many other cool features that come with this light for instance, its ability to change between 7 colors which allows you to use it as a night light, reading light or an atmosphere light.
43. Organic Dried Lavender Flowers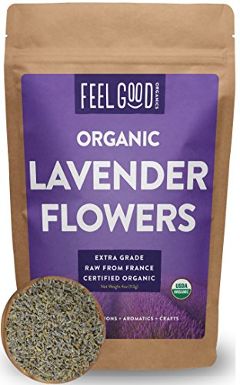 Using lavender as an essential oil is a great way to help calm your mind and body. But you can also use it in its dried form. Dried lavender flowers carry a mild scent that is natural and highly relaxing.
This bag contains 100% raw lavender flowers grown in southern France. You can use these leaves in a variety of ways. For instance, you can use them to make a relaxing herbal tea or you can put them in a sachet bag and place it near your pillow to help with your sleep. You can even use them to create a relaxing eye pillow or a sleep pillow.
Plus, you can use them in a range of dishes. for instance, you can make lavender lemonade, lavender ice cream, cheesecake etc. All in all, these flowers can make for a great gift item to enhance sleep.
44. Zenergy Meditative Light & Sound Therapy Candle
The Zenergy Candle is a compact device with 4 light modes and 6 relaxing sound modes (including white-noise).
It even has 4-7-8 guided breathing meditation (with and without voice), that allows you to relax and fall asleep using the highly effective 4-7-8 breathing technique devised by Dr. Andrew Weil.
This device also has a timer that gradually lowers the volume and brightness as you drift off to sleep.
45. Aromatherapy Essential Oils Diffuser
This aromatherapy diffuser is made of wood grain and has a beautifully unique look to it. It is large (has an water tank capacity of 300ml) and can diffuse continuously for 10 hours. It also has soothing light and various light modes.
This diffuser also comes with a timer and an auto-shut off feature in-case the water dries up for safety purposes.
Note: Consider pairing this gift with some essential oils that enhance sleep like Lavender, Valerian, Bergamot, Cedarwood, or Chamomile.
46. BCOZZY Chin Supporting Patented Travel Pillow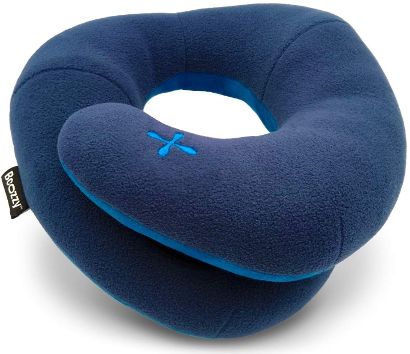 This innovative travel pillow by Bcozzy offers complete support to your neck and head no matter what position you are sitting in. In addition, it is designed to prevent your head from falling forward that can prevent a soar neck and interrupted sleep. It can also prevent your mouth from opening while you sleep and even reduce snoring.
This can make for a great gift for people who travel by air a lot.
47. Contour Memory Foam Pillow with Cervical Support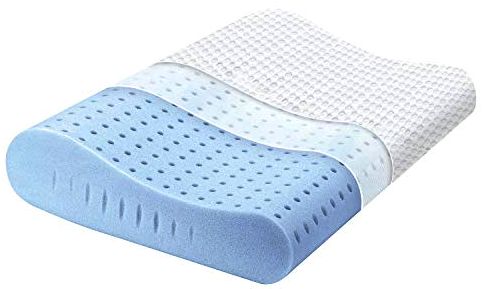 Memory foams adapt to your head, neck and shoulders providing you the optimum comfort and support enhancing your overall sleep quality.
This pillow in particular uses CertiPUR-US certified premium memory foam that provides comfort along with enhanced support and can help relieve neck/shoulder pain and stiffness.
48. Magnesium Bath Flakes from Ancient Minerals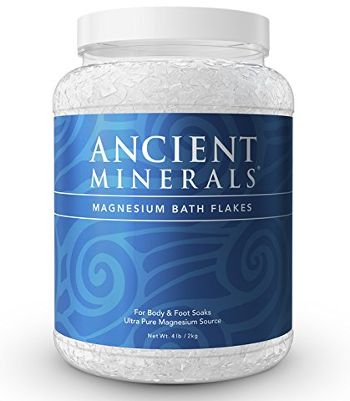 Magnesium has been known to improve sleep quality. One way to introduce magnesium in your body is through topical application. And that is where these magnesium bath flakes come in.
You can either add a few scoops (around 8 lbs of flakes) to your bathtub and go for a full body wash for 30 minutes to an hour or simply take a warm foot bath by soaking your feet in magnesium water (around 1-3 cups in a foot bath massage spa or bathtub). Doing this about an hour or two before sleep can improve your sleep quality.
This can make a good gift on its own or when combined with the Foot Spa we saw earlier.
49. Magnesium Bath Flakes from Ancient Minerals
Keeping an insulated water bottle by your bed ensures that you can drink cold/hot water anytime without having to leave you bed. This can definitely improve your sleep quality. This stainless steel water bottle by Mira is Vacuum Insulated, has a Wide Mouth and can keep your water cold for 24 Hours and Hot for 12 Hours.
50. 12 Prong Manual Head Massager
This is a really versatile handheld manual massager that can help relieve headaches and induce deep sleep. It contains 12 prongs each with smooth rotatory balls that glides smoothly across your scalp stimulating pressuse points and releasing tension. Lovely gift for someone who does not like electric massagers.
51. Levoid Air Purifier with Night Light
Allergens in the air can cause nasal congestion and other breathing issues which negatively impact your sleep.
The best way to clear the air of allergens and other impurities is to use an air purifier.
This particular air purifier from Levoit comes with a 3-stage filtration system that includes a carbon activated filter that captures allergies, pet hair, mold, large dust particles and other air contaminants giving you clear and easy to breath air.
Plus, this purifier produces the lowest noise so it won't disturb your sleep.
This device also features a handy night light with two brightness settings making it the perfect sleep gift.
52. Aurora Night Lights Projector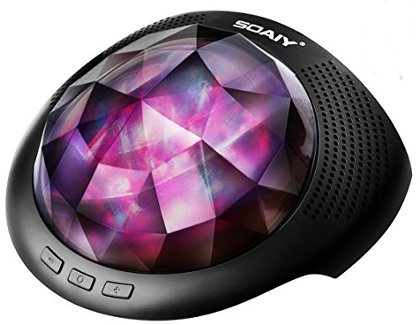 This light projector projects colorful light rays (mimicking aurora lights) onto the ceiling of your room, creating a relaxing atmosphere helping you ease off to sleep.
In addition to the lights, this product also comes with built-in nature sounds including white noise, ocean, summer night, thunder, brook, and rain. You can also use it as a Bluetooth speaker to play audio from your cellphone or tablet. It has a timer, 3 brightness levels and various light modes to choose from. Overall a great gift item for kids as well as adults.
53. Half Moon Bolster Semi Roll Pillow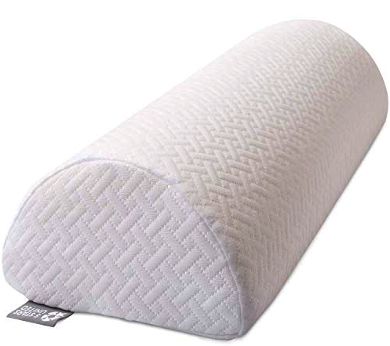 This is a versatile pillow that you can place under your legs, under lower back or under knees for a deep relaxing sleep. You can use it while seated as back support or while sleeping.
54. Memory Foam Mattress Topper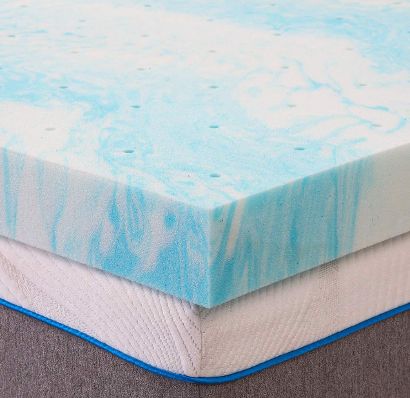 An old and uncomfortable mattress is one of the main reasons for bad quality sleep. But just because your mattress is old does not mean you need to buy a new one. You can get back the same level of comfort as a brand new mattress using a mattress topper.
Mattress toppers are made using a variety of materials, but one of the most comfortable of them is memory foam. Memory foam toppers contour to your body helping you get the best sleep irrespective of the direction you sleep.
This mattress by Milemont in particular is 3 inches high and uses light and breathable foam that conforms to your body and helps you feel perfectly relaxed. Plus the memory foam is Certipur-us certified which means it uses no harmful chemicals and confirms to all safety standards.
Note: Make sure to select the correct size before ordering.
55. Therapeutic Foam Bed Wedge Sleep Pillow
Wedge pillows can be super relaxing especially to people suffering from neck/back pains, acid reflux, breathing problems or allergy issues. The gentle incline of this triangular pillow elevates your upper body, opening airways and giving you good support and comfort for a comfortable night's sleep.
You can even use this pillow for back support while sitting on the bed or place them under your knees (or use it to elevate your legs) while sleeping on your back to ease stress in your lower body, improving circulation and enhancing sleep.
This pillow comes with a soft bamboo cover that is removable and washable for easy care. If your recipient has trouble sleeping because of back aches, acid reflux or allergy issues, then this pillow would make for a great gift.
56. Anti Snoring Nose Vents
These nasal vents open up your airways and help prevent snoring and nasal congestion ensuring uninterrupted sleep.
This device is made from high quality silicone and designed to snugly fit inside your nostrils and not slip out during the night.
To ensure the perfect fit, this device comes in a pack of 4, each one of a different size so you can choose the one that fits you best.
57. U Shaped Full Body Pillow
This is a well designed U shaped pillow that offers you full body support while sleeping, making you feel warm, safe and secure.
The pillow is great for side sleepers as it offer both upper and lower body support for maximum comfort. It is available in three different lengths (55′, 61″ and 65′ inches) which you can choose based on your height.
Even though this pillow is made specifically for pregnant women, this can be used by anyone to improve their sleep.
58. Siastu Foot Massager
Neck, back, foot and full body massagers can all make for great sleep gifts as they promote deep relaxation that can aid sleep.
This foot massager for instance uses compression as well as stimulation (using a rotation ball and rolling sticks) to deeply massage your feet. This helps relieve tension/pain, improves circulation and promotes better sleep.
You get to choose from 3 kneading intensities and 3 compression levels. This massager also comes with a soothing heat function that you can activate or deactivate based on your preference.
Use this massager a few minutes before sleep (for around 20 to 30 minutes) can help you relax and unwind for a good night's sleep.
59. J-Pillow Travel Pillow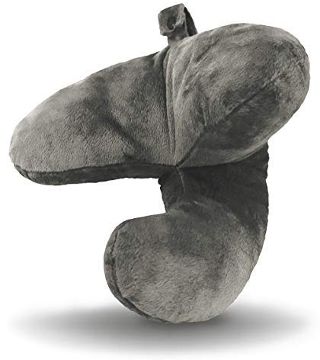 Speaking of travel pillows, here's another one with a really simplistic yet functional design.
This pillow is shaped as the letter J and is designed to support your head, neck and chin while you sleep. This helps prevent your head from falling forward while sleeping ensuring uninterrupted sleep for long hours.
So there you have it; 39 thoughtful products you can give as a gift to help someone with sleep issues.
Are we missing something? Do you know a great product that should be on this list? Please feel free to contact us and we will be happy to add it to the list.
Disclaimer: Outofstress.com gets commissions for purchases through links in this story.
The products mentioned in this article were selected independent of sales and advertising. However, Outofstress.com may receive a small commission from the purchase of any products or services through an affiliate link to the retailer's website. Although, the price of the item is the same for you whether it is an affiliate link or not. Please read affiliate disclosure and full disclaimer for more information.