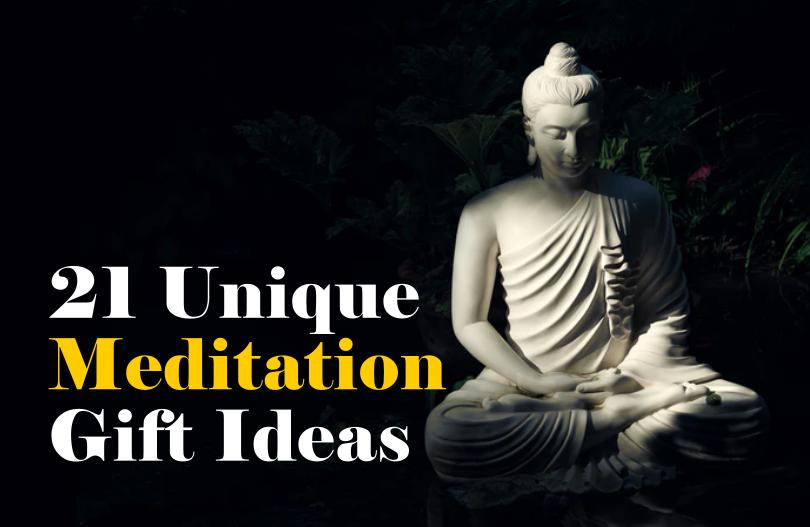 ---
Disclaimer: This article contains affiliate links, which means we get a small commission for purchases through links in this story (with no extra cost to you). As an Amazon Associate we earn from qualifying purchases. Click here to know more.
---
Are you looking to find the perfect gift for a loved one who is into meditation/mindfulness? Then this article is just for you.
The perfect gift would be something that helps the receiver in their meditation/mindfulness practice. A gift they can put to practical use, and one that lasts for a long time.
Here's a list of 65 mediation gifts that anyone who meditates would love to receive.
1. Meditation Mala with Chakra Beads and Charms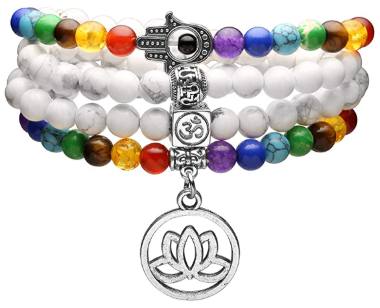 First on our list is this beautiful mala that contains 108 beads made from white turquoise (known to give strength and positivity to the user). It also has 7 chakra beads and 4 meaningful charms (Lotus, OM, Hamsa hand and Buddhist bead). This mala can be used for mala meditation and also doubles as a necklace or a bracelet.
This mala is also available in a variety of stones.
2. Meditation Triangle Shelf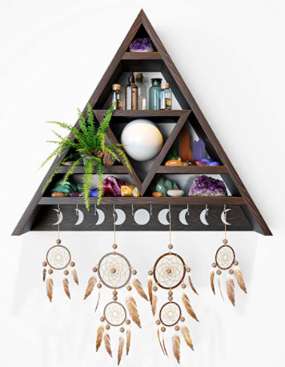 This beautiful meditation shelf is made from natural wood and comes with neatly arranged compartments that can be used to store crystals, stones, essential oils, incense and other meditation items. It also has a place for a crystal ball.
3. Round Mandala Rug
This rug is made from soft and lightweight cotton material and features a beautiful mandala design. The run is 4ft in diameter and can be used as a meditation mat or simply for décor.
4. Resin Incense Set
Incenses have been used since ages for cleansing and purifying purposes. Resin (tree sap) incense can be really powerful as compared to regular incense.
This resign incense set comes with a verity of natural tree resin some of which include Sweet Myrrh, White Copal, Frankincense, Benzoin and Altar Blend. It also has herbal incense like Palo Santo and Sage. In addition, you also get a Brass Hanging Burner, a Tong and Charcoal tablets that can be used to heat the resin.
This is the perfect set for anyone wanting to try Resin or Bakhoor incense.
5. Charcoal/Resin Incense Burner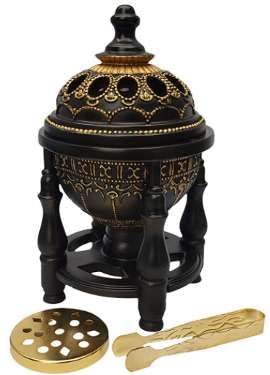 If your recipient likes resin or herbal incense (like Sage, Palo Santo etc.) then this burner can make for a good gift. This burner is beautifully crafted and features hand painted gold patterns. It can be used to burn charcoal, resin, Sage or Oud.
6. Anker Portable Bluetooth Speaker
Bluetooth speakers can be used for sound or mantra meditation.
This portable wireless speaker gives crystal clear sounds and has a bluetooth range of 66-Foot. It also has Micro SD and AUX capability and can play music for 15 hours from a single charge.
7. Reclining Meditation Chair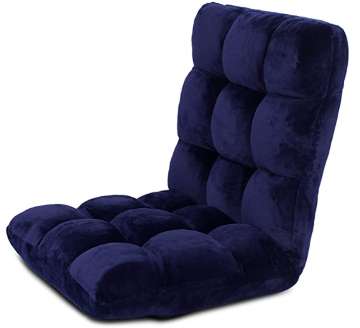 Meditation chairs are good because they offer back support which can be great while meditating for long hours. This chair has high quality memory form for added comfort and 14 adjustable back positions so you can use it for meditation or relaxation.
8. Steel Tongue Drum (8 Notes)
This steel tongue drum produces soothing, resonating tones similar to wind chimes and is ideal for meditation, relaxation and sound therapy.
9. 432Hz Tuned Pipe Chime (With Mallet & Hand Stand)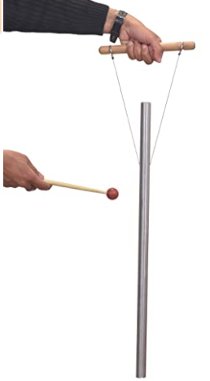 This tuned pipe resonates at 432Hz when played which is considered the happiness or miracle frequency. You get crisp, clear tones that last for a long time. You can play this before and after your meditation practice to feel centered and grounded.
10. OM Wall Art
This well crafted, ready to hang OM wall art is made from sturdy wood and can make for a nice addition to any meditation space.
11. Moon Phase Wall Art
This beautifully crated wall art features the different phases of the moon and looks really unique and versatile. It represents the cyclic nature of life and can make for a wonderful addition to any spiritual space.
12. Inspirational Prayer Stones
These are 25 beautifully crafted stones (of various shapes and colors), engraved with positive words. Example of these words include, Gratitude, Faith, Courage, Hope, Believe, Joy, Peace, etc. This can be great if you want to set an intention for your meditation practice. You can hold them in your hands during meditation or place them in your meditation altar.
Also, the stones weigh around 2 ounces/piece and are between 2″ – 3″ in size, so you can even carry them in your pocket and feel the stone whenever you need to center yourself. The words can also serve as daily reminders of inspiration and encouragement.
13. Torus Lighted Mandala
This beautiful mandala comes with mesmerizing light effects with a variety of color settings. It can also be mounted both sides for different a lighting effect making it a really unique spiritual gift.
14. Mandala Jigsaw Puzzle
This is a 1000 piece jigsaw puzzle and the end result is a mesmerizing mandala that will look perfect as a wall art in any meditation room.
15. Seven Chakra Mandala Tapestry
Made from 100% soft and anti-wrinkle premium polyester fiber this tapestry features the seven chakra elements on an vibrant background. This tapestry can be used as a wall hanging, blanket, bed cover, towel or a meditation mat.
16. Meditation Timer With Chime Sound
This is a portable meditation timer that can be programmed to play a gentle chime sound at regular intervals (for instance every two minutes) throughout your meditation practice to help you stay focused. In addition, it also has a warm up counter and countdown timer.
This also doubles as a regular alarm clock with backlight, alarm and snooze features. It can be really relaxing to wake up to the sounds of gentle chimes in the morning.
17. Nada Chair – Back Supporter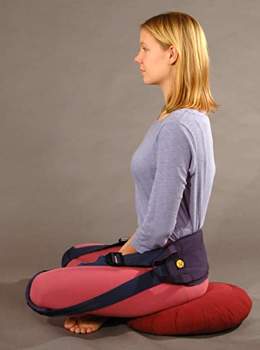 The Nada Chair Back Supporter can be really useful for anyone who has difficulty sitting up straight for long hours during meditation. It offers lumbar support and helps correct your posture to eliminate back aches and other issues. The product is also fully adjustable and hence can be worn comfortably by anyone. Plus, it can be used anywhere – while sitting on your computer, driving etc.
This can make for the perfect gift for someone with back issues.
18. Mindfulness Cards
This is a deck of 60 beautiful cards each containing either an empowering message or a thought provoking question. Can be used for self reflection and for re-focusing your mind on the positive.
19. Mini Zen Artist Board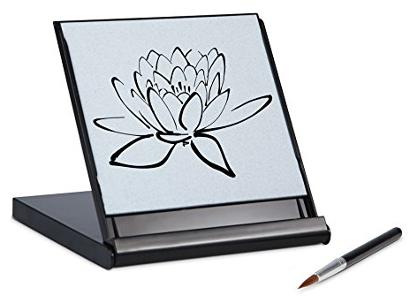 Drawing on this board can be a really relaxing as well as a meditative experience. The beauty of this board is that you can write or draw on it and after a few seconds everything starts to fade away and you get a blank board once again. For instance, you can write down your true thoughts and as the words fade away, feel all your negative thoughts fade away along with it.
20. Healing Chakra Crystal Kit
Crystals and gemstones have healing properties and hence can make for great additions to your meditation room or altar.
This crystal kit contains 7 chakra stones and 7 gemstones along with a beautiful Amethyst cluster and a Rose quartz pendulum. If that was not all, this kit also comes with a Lava Stone bracelet and a rose petals sachet bag.
The stones are not too big and are around 1 to 1.5 inches in size but they look beautiful nonetheless as they are in their natural state and not polished.
21. Flower of Life lamp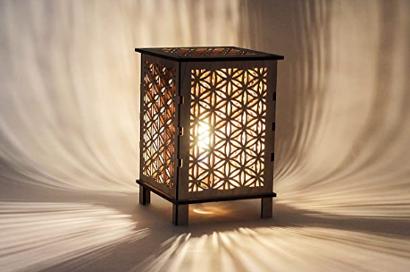 This beautifully crafted night lamp projects the sacred 'Flower of Life' patterns onto the adjacent walls and surfaces creating a positive atmosphere. The lamp comes with a light diffuser which you can optionally use to distribute the light evenly.
22. OM Aromatherapy Necklace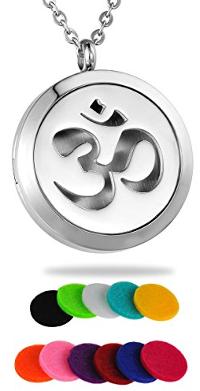 The OM symbol is synonymous with meditation as it is often used as a meditation mantra.
This is a beautiful aromatherapy necklace that features a distinct OM symbol.
Each necklace comes with a set of 11 multicolored cotton pads (that are washable and reusable), to which you can add a drop to two of essential oil, and place it in the locket, to inhale your favorite scents all day long.
The locket and chain is made of stainless steal for added durability.
Along with the necklace, you get a little zip-lock bag with 12 colored pads in it, and a nice velvet bag to store everything.
23. Sand Labyrinth for Meditation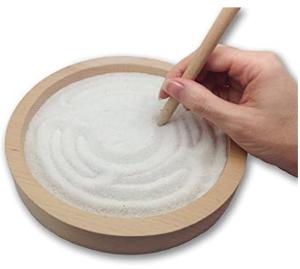 Labyrinths have always been used as tools for meditation. This particular product allows you to use a stylus to draw a labyrinth pattern on sand.
Tracing through the sand and watching the labyrinth emerge can be a really calming and meditative experience making this a really unique gift for both beginner as well as advanced meditators.
24. Smudge Kit For Cleansing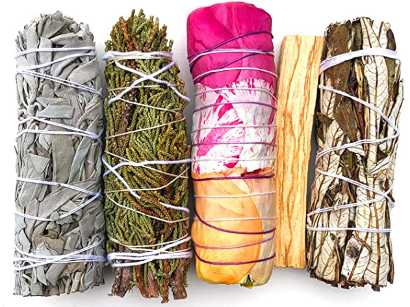 Speaking of smudging here's another gift worthy kit that comes with a variety of smudge bundles that include white sage, Palo Santo, Cedar, Yerba Santa and white sage wrapped in flower petals. This kit also comes with a beautiful booklet with the description of each smudge stick, prayers and directions for usage.
25. Handmade Meditation Bench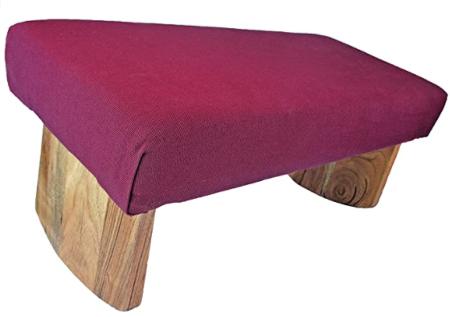 Meditation benches help you sit in a perfectly supported kneeling position that can be more comfortable as compared to sitting on a Zafu. Plus the design of the bench helps your spine align perfectly as you sit down for long hours.
This bench in particular is handmade from Acacia wood and comes with a cushioned seat and rounded pedestal legs for added comfort making this an excellent meditation gift.
26. Foldable Meditation Cushion (with Kapok filling)
This is a handmade foldable meditation cushion that contains 100% kapok (natural plant fiber) filling. The natural kapok filling is not only comfortable to sit on but also has the added benefit of staying cool as it does not conduct heat.
Can be used for various purposes including meditation and yoga.
27. Flower of Life – wall art
Made from birch plywood, this beautiful 'Flower of Life' (considered a sacred symbol) wall art is the perfect size at 12 inches in width and 1/4 inch thickness. It is craved to perfection using lazer cutting system and
can make for the perfect wall art in a meditation room.
28. Multipurpose Incense Holder
This beautiful 9-hole incense holder is shaped in the form of a lotus and would make for a worthy addition to your meditation room. It is made of high-quality bronze and at 5.1 inches is large enough to catch all ashes even if you use long incense sticks.
Also, this is a multipurpose holder that can hold different variety of incense be it stick, cone or coil.
29. Mandala Tapestry
This tapestry features a beautiful mandala and can make for the perfect wall/ceiling decor for any meditation room. You can also use this tapestry as a bedspread, blanket, table cloth or window curtain.
Made with 100% soft cotton fabric and Eco friendly vegetable dye color this is a light weight tapestry is available in a variety of sizes and colors.
30. Meditation Blanket/Shawl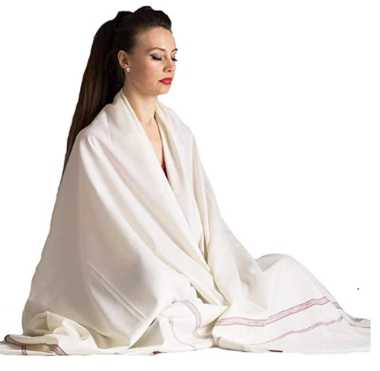 A lot of people prefer to use a shawl during meditation as it is comforting and helps your body relax.
This shawl from OM Shanti is made from 60% Australian Wool and 40% Polyester and can be used for all seasons. It will keep you warm in the winters but is lightweight enough to be used during the summer months as well.
This shawl is decently large (8′ long and 4′ wide) so you can use it for both walking and sitting meditation.
31. Indoor Buddha Fountain
This is a beautiful tabletop fountain with water flowing out from a bowl held by the meditating Buddha. The water does not make a splash, but instead has a smooth, almost silent flow to it. You can make the sound more distinct by adding a few crystals to the base of the fountain.
The water pump is hidden from view and makes a mild humming sound which is mostly inaudible. The pump can be powered using a power cord which you get along with the product.
This Buddha is sculpted out or polyresin and is around 11 inches high and weighs around 3.69 pounds.
32. Hand Hammered Tibetan Singing Bowl
Playing a singing bowl can be a deeply meditative experience. It helps clear your mind and brings a sense of calmness to your entire being. This is what makes a singing bowl an excellent meditation gift. There are tons of bowls available on the internet, but this bowl by Healing Lama is unique as it is hand hammered as opposed to machine made. Also, this bowl is made using an amalgamation of 7 bronze alloys. This means, the bowl will sing easily and you will get a much higher quality of sound and resonance.
As for the size, this bowl is 5.25 inches in diameter and weighs around 30 ounces, which makes it the perfect size (not too large, not too small). Each bowl comes with a mallet, a donut shaped cushion (on which you can place the bowl) and Certificate of Authenticity from the manufacturer (Healing Lama).
33. Himalayan Salt Candle Holder
This is a set of 4 hand crafted Himalayan salt candle holders that would look great in your meditation room helping you create a warm, relaxing aura. These lamps are all unique in shape and size and have been designed to hold tea light candles.
Tip: You can gift these candle holders with some natural t-light candles like lavender to make this gift complete.
34. Zen Miniature Sand Garden
Making a sand garden, creating patterns with rakes over the soft sand, decorating your garden with rocks and figurines can be in itself a relaxing and meditative activity.
This sand garden is beautifully designed, decently large and comes with rakes, a bag of white sand, rocks and figurines making it a unique gift item.
35. Tibetan Herbal Incense Sticks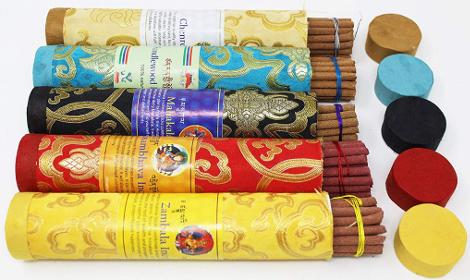 This Tibetan incense is made by combining medicinal and aromatic plants from the Himalayas and hence has a healing and deeply calming effect on your entire being. Unlike typical incense, it is made entirely of the herbal ingredients and does not have a wooden stick inside (which can make it a little fragile).
This ensures that the smoke generated is pure and soothing making this the perfect incense for your meditation room.
According to the manufacturer, this incense has been hand-rolled following ancient texts and traditions making it that much more powerful.
36. Mandala Coloring Book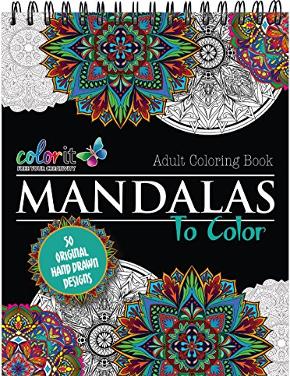 Drawing and coloring mandalas can be a deeply healing and meditative experience. This is what makes a mandala coloring book the perfect gift for anyone who likes to meditate. This particular book by Terbit Basuki has 50 beautiful hand drawn mandalas that are large enough and offer plenty of space to color.
The pages of this book are pretty thick and do not let the color bleed through. This means you can use marker pens, gel pens, color pencils or even watercolor paints to color. One great feature about this book is that it is spiral bound and hence you can color without having to hold the book open. Also, this book comes with a thick cardboard back so you can color without needing to be at a table.
The pages are perforated at the top so you can easy tear out your favorite designs for framing, photocopying etc.
37. Meditating Buddha Statue
This statue of Buddha in a deep meditative state serves as a constant reminder to let go of thoughts and come back to the present moment – making it the perfect adornment for any meditation room.
This statue is around 8 inches tall and is made with hollow molded resin (making it lightweight) and has a golden finish.
38. Soy Herbal Smudge Candle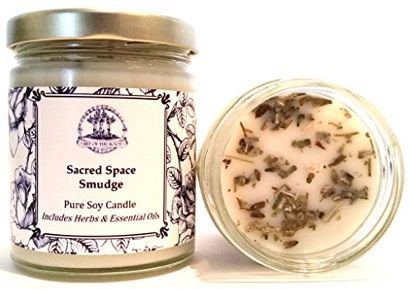 This beautiful soy herbal candle is made from real herbs and oils and has a light and clean scent to it.
It contains Lavender, Sage and Cedar and hence has a deeply calming effect on your being making this perfect for meditation as well as for cleansing and positivity.
39. Zafu Meditation Cushion
Zafu is a round cushion that can be helpful to anyone who likes to meditate sitting down. The cushion helps push your back up so the natural curve of your back is maintained. This also helps you sit cross legged for a longer duration of time. Zafu cushions come in various shapes and sizes. They are typically round, but round cushions can dig into your thighs if you sit for a longer duration. Therefore, a better option is to go for a crescent or V shaped cushion.
Crescent shaped cushions have a gradual downward slope so they do not dig into your thighs which makes you feel comfortable for longer sitting hours. This particular Zafu from Awaken Mediation (refer image above) comes filled with Buckwheat which you can easily add or remove to adjust the height and firmness of the cushion as per your preference, making this perfect for meditation.
40. The Now Clock
The NOW-clock serves as a gentle reminder to come to the present moment as all time is in the now.
The clock comes with a pendulum that has a laser engraved OM symbol. The pendulum swings back and forth. This is definitely an one of a kind meditation gift.
41. Smudge Bowl Kit
This smudge kit comes with a beautifully crafted soapstone bowl (with lovely carvings) along with one California white sage bundle, two Palo Santo (holy wood) Pieces and a bag of white sand. Perfect for cleansing your surroundings before you start to meditate. So if your recipient is into smudging then this would make for a thoughtful gift.
42. Mini Desktop Gong
Another unique item you can consider giving is this Mini desktop gong.
This gong makes a soothing sound when played with a mallet (which is provided) that can help center your energy and bring you to the present moment making it ideal for meditation. The unit is 8 inches wide and 9 inches tall and makes for the perfect size to place on a desk or a meditation table.
43. Chakra coffee mug
This colorful mug features a beautiful print of seven chakras and a positive word related to each chakra.
44. Buddhist figurine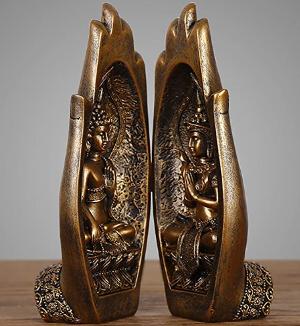 This Buddha figurine (around 8 inches tall) features very detailed craftsmanship and would look great in a meditation room or table.
One great thing about this figurine is that you can join the hands together to make a praying hand or a Namaste symbol.
45. Himalayan Pink Salt Lamp Basket
This simple yet elegantly designed salt lamp gives off a mellow glow that is perfect for meditation. The salt comes as little stones along with a decorative container with various patterns to choose from. Plus, you have the option to adjust the intensity of the light which is a nifty feature.
46. Meditation Bell & Dorje Set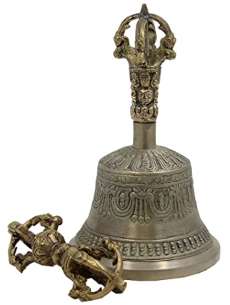 This meditation bell and dorje set features beautiful art work and produces clear, soulful resonating sounds that bring present moment awareness.
47. Three Tone Woodstock Chimes
This beautiful musical instrument features 3 polished aluminum rods contained in an ash wood frame that when tapped produces a sweet resonating sound that takes you into a state of stillness and calm. Focusing on these pure sounds helps clear your mind of thoughts and brings you to the present moment.
Just like the singing bowl, these chimes are a great way to prime your mind before your start meditating.
48. Artistic Incense Cone Holder
This is a small yet exotic looking incense holder that would look good in any meditation room. This incense holder is made from copper alloy and can be used to burn cones, stick or coil incense.
With a diameter of 4 inches and height of 3 inches, this is a fairly small holder but can catch ashes of normal sized incenses easily.
49. Lava Rock 7 Chakra Aromatherapy Bracelet
This unique bracelet is made of lava stone beads and comes with 7 additional colored stones that correspond to the colors of the 7 chakras.
Lava stones are known to have a grounding and calming effect on the wearer. Plus, they are porous and can be used as an essential oil diffuser.
You can add a few drops or rub the lava stone beads with your favorite essential oil(s) and the scent will last for a long time (in most cases an entire day).
50. Rudraksha Wrist Bracelet
This Rudraksha bracelet contains 8mm Rudraksha beads along with two Lapis beads and a large oblong shaped turquoise bead making it look beautiful and exotic.
Rudraksha beads are known to increase your body's vibrational energy and hence wearing them during meditation can be highly beneficial.
51. Bamboo Wind Chimes

There is a reason why bamboo is synonymous with health, harmony and balance. Bamboo has a beautiful vibration to it and these bamboo chimes bring those vibrations to life.
Simply listening to the beautiful sounds produced by this chime as it sways in the air is enough to deeply relax you and bring you into the present moment.
52. Mandala Wall Art – Set of 4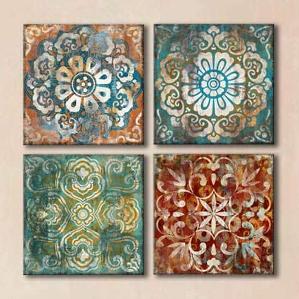 This is a set of four, 18×18 inch canvas panels each featuring a beautiful mandala design.
The best part is that these panels are already wrapped on wooden frames and come with nails/hooks so they are easy to set-up.
53. Large Smudge Kit Gift Set
We already included a smudge kit before but this one is a little more unique.
This kit includes 2 White Sage Smudge Bundles, an Abalone Shell, 1 Palo Santo Holy Wood Stick and a pack of Pink Himalayan Salt. In addition, you also get an Amethyst Crystal and a Rose Quartz Crystal.
Overall a great gift set for cleansing and meditation.
54. Wireless Bluetooth Headband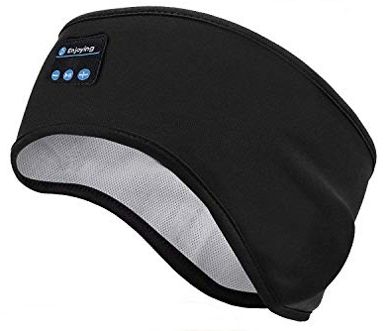 A better alternative to Bluetooth headphones are these Bluetooth headbands. What makes them better is that they are lightweight as compared to the headphones. This means you can wear them comfortably for long hours of meditation without experiencing any kind of discomfort.
55. Meditation Cushion (Zafu and Zabuton Set)
A Zafu is usually placed on top of a Zabuton (which is a larger square shaped cushion). This acts as a cushion for your feet and can make it really comfortable to meditate for longer hours. This is why a Zafu along with a Zabuton can make for a great gift.
You can purchase a Zabuton separately or buy them as a set like this one from Awaken Meditation (refer image above).
56. Meditation Acupressure Cushion
A crescent shaped Zafu is generally more comfortable as discussed above, but some people prefer them round. If that is the case, this round cushion would make for a better gift option.
What makes this cushion unique is that it contains acupressure points on one side. Of-course, if you do not like the acupressure points, you can always flip it around and use the plain cushion instead.
The buckwheat filling gives it just the right combination of stable foundation and conforming softness.
57. Silicone Earphones With Noise Cancellation
These silicone earphones are extremely comfortable to wear and provide noise cancellation so they can be used while meditating or to listen to guided meditations while sleeping. They double as earplugs as you sleep and can even be worn by side sleepers as the silicone is soft, will stay in place and won't cause ear aches.
58. Breath-in/Breath-out Spinning Meditation Ring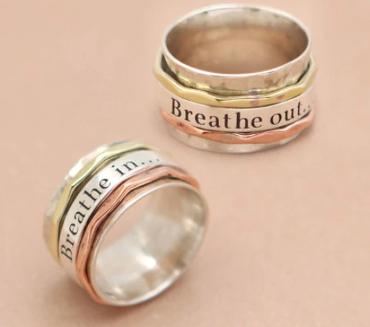 Beautifully designed meditation ring that has the message 'Breathe-in' and 'Breathe-out' engraved on the outer band. The outer band spins smoothly and can be used when meditating.
59. Buddha Box for Malas
Made of bonded stone, this beautiful mala box features a buddha carving on the lid and rich colorful details on the sides. This box can be used to store malas or personal tokens and would look perfect on a meditation table/altar.
If you are gifting a meditation mala then it would be a great idea to gift it along with this box.
60. Meditation Journal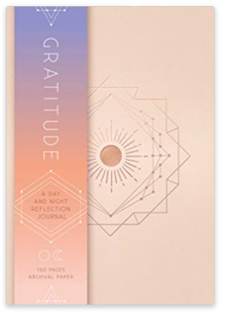 This is a simple meditation and gratitude journal that allows you to set an intention for each day in the morning and reflect on your day in the evening.
---
Also Read: 20 Inspirational Self Reflection Journals To Help You Rediscover Yourself
---
61. Yoga Lotus Pose Sculpture
This is an 8 inch tall sculpture that depicts the yoga lotus meditative pose. There are other poses available as well (this includes yoga prayer pose and mountain pose).
These can be placed around the house or in the meditation room and will serve as a reminder to calm down and to take time to meditate.
62. Wireless Bluetooth Headphones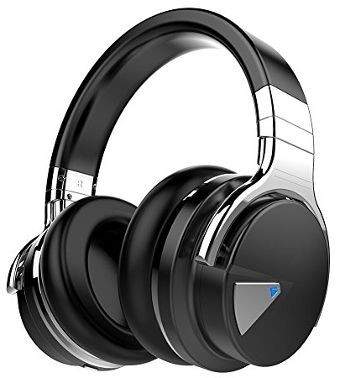 A lot of people like to meditate while listening to guided meditation, affirmations or brainwave frequencies. Some even like to listen to white noise to block out all ambient sounds. This is where wireless Bluetooth headphones can come in handy as they are super convenient to use.
If you are looking for affordable wireless headphones then the E7 headphones by Cowin is a good option. These phones offer good quality audio and also come with features like active noise cancellation that can block out common environmental sounds allowing you to focus better. Plus, these headphones also have soft protein ear pads so you can wear them for long hours without feeling pain or discomfort.
You can easily connect this with your phone using Bluetooth and listen to any meditation related audio as you meditate.
63. Namaste Mug
A beautiful mug featuring a beautiful message of positivity and the OM symbol. This mug is microwavable and dishwasher safe.
64. 526Hz Tuning Fork
A tuning fork can be used for balancing your own energy field and for cleaning your meditation space. This fork is tuned to vibrate at 526Hz which is known as a healing frequency. The portable nature of this tool allows for easy carry wherever you go.
65. Tree Of Life – Wall Art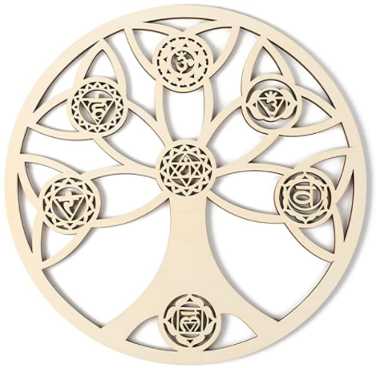 This beautiful wall art is made from laser cut birch plywood and features the tree of life along with the 7 chakras. Perfect art for any spiritual room.
66. Whitenoise Machine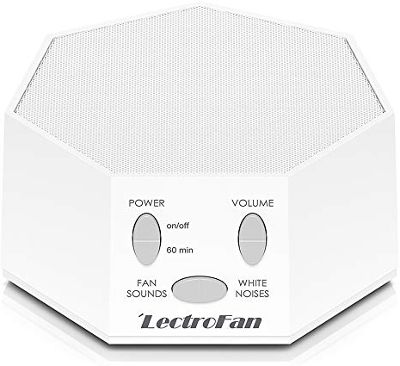 A white-noise machine produces a single frequency of sound that blocks all other frequencies. For example, environmental sounds like barking dogs, vehicular sounds, snores, noisy A/C units, sound of conversation etc. can easily be blocked by using a white-noise machine. This helps create a peaceful and quiet environment for meditation. Silence helps the mind focus and stay conscious for longer. This is what makes white-noise machines a thoughtful gift for someone who meditates especially if they live in a locality where there is constant noise or activity.
This white-noise machine by Lectrofan is capable of producing ten different fan sounds and ten noise variations that not only include white noise but also pink noise and brown noise which are highly effective at masking various types of sounds. You get options to adjust the volume and intensity of the sound to suite your needs. Plus this machine does not come with prerecorded sounds, it creates sounds on the fly and hence the sounds are very natural and there is no looping.
Disclaimer: Outofstress.com gets commissions for purchases through links in this story.
The products mentioned in this article were selected independent of sales and advertising. However, Outofstress.com may receive a small commission from the purchase of any products or services through an affiliate link to the retailer's website. Although, the price of the item is the same for you whether it is an affiliate link or not. Please read affiliate disclosure and full disclaimer for more information.