This article is a collection of some of inspirational and thought provoking quotes from one of the most influential and original voices in American popular music – Bob Dylan.
But before we get to the quotes, here are some quick and interesting facts about Bob Dylan. If you want to skip right to the quotes, please use the following links:
Some quick facts about Bob Dylan
Bob Dylan's real name was Robert Allen Zimmerman which he later changed. Speaking about the name change in a 2004 interview, Dylan said, "You're born with the wrong names, wrong parents. I mean, that happens. You call yourself what you want to call yourself. This is the land of the free."
Dylan's name change was inspired by his favorite poet Dylan Thomas.
Dylan's musical idol was Woody Guthrie, who was an American Singer and Songwriter and one of the most prominent figures in American folk music. Dylan considers himself Guthrie's greatest disciple.
Along with being a singer and songwriter, Dylan is also an accomplished visual artist. He has published eight books of drawings and paintings since 1994. His work is often exhibited in major art galleries around the world.
Dylan is also a prolific writer and has published many books including Tarantula, which is a work of prose poetry; and Chronicles: Volume One, which is the first part of his memoirs. In addition he has written several books containing the lyrics of his songs, and seven books of his art.
Dylan is the recipient of various awards including 10 Grammy awards, a golden globe, an academy award and Nobel prize in literature.
In the year 2016, Dylan was awarded Nobel Prize in Literature "for having created new poetic expressions within the great American song tradition".
Dylan and George Bernard Shaw are the only two people who have received both a Nobel Prize and an Academy Award.
Dylan was actively involved in the Civil Rights Movement of the 60's.
Many of Dylan's songs such as "Blowin' in the Wind" (1963) and "The Times They Are a-Changin'" (1964) became anthems for the Civil Rights Movement and anti-war movement.
Bob Dylan performed at the 'March on Washington' held on August 28, 1963 where Martin Luther King gave his historic, 'I have a dream' speech.
Quotes by Bob Dylan
Now let's get into some really amazing quotes by Bob Dylan. Some of these quotes have been taken from the lyrics of his songs, some from his books and some from interviews.
Life advice quotes from Bob Dylan
---
"I don't expect politicians to solve anybody's problems. We've got to take the world by the horns and solve our own problems."
---
"The world owes us nothing, each and every one of us, the world owes us not one single thing. Politicians or whoever."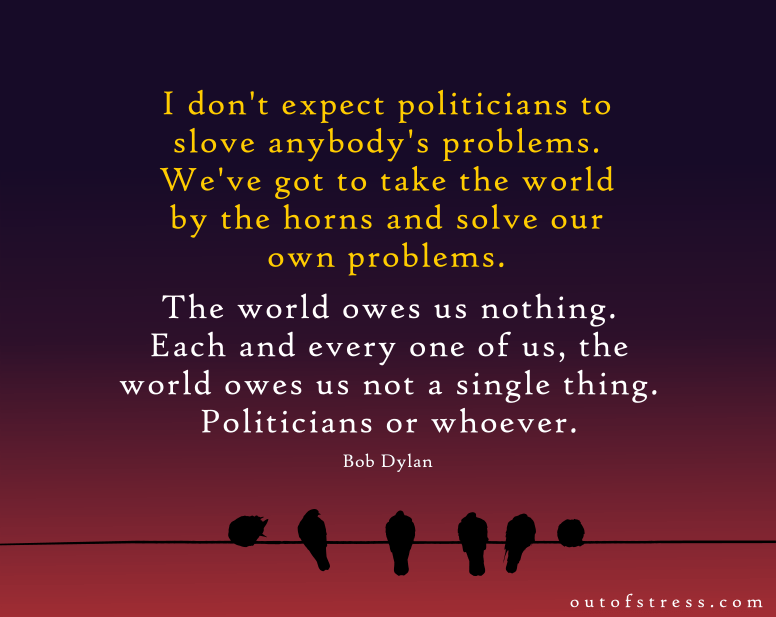 ---
"You should always take the best from the past, leave the worst back there and go forward into the future."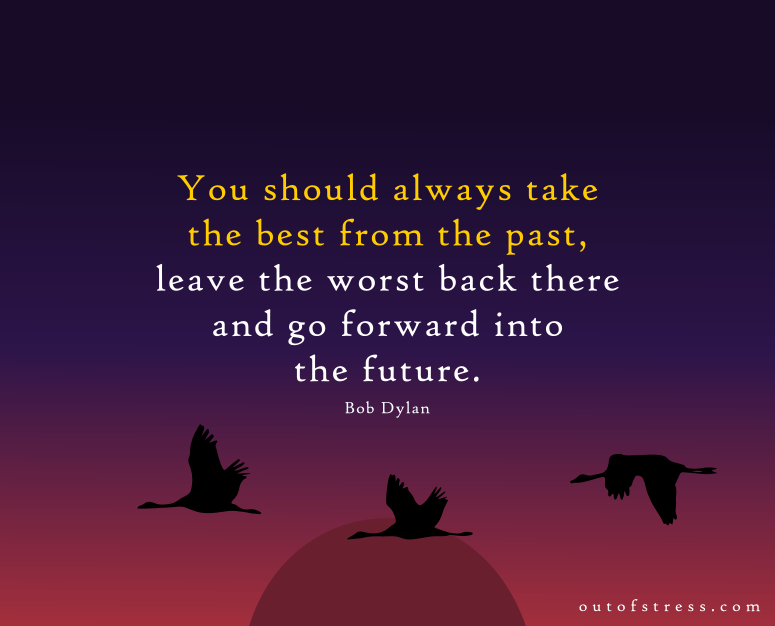 ---
"DESTINY is a feeling you have that you know something about yourself nobody else does. The picture you have in your own mind of what you're about WILL COME TRUE. It's a kind of a thing you kind of have to keep to your own self, because it's a fragile feeling, and you put it out there, then someone will kill it. It's best to keep that all inside."
– The Bob Dylan Scrapbook: 1956-1966
---
"If you need somebody you can trust, trust yourself."
---
"You call yourself what you want to call yourself. This is the land of the free."
---
"Don't criticize what you can't understand."
---
"Swallow your pride, you will not die, it's not poison."
---
"There is nothing so stable as change. Everything passes. Everything changes. Just do what you think you should do."
---
"When you feel in your gut what you are and then dynamically pursue it – don't back down and don't give up – then you're going to mystify a lot of folks."
---
"The longer you live, the better you get.
---
"Act the way you'd like to be and soon you'll be the way you'd like to act."
---
Inspirational quotes by Bob Dylan
"Gonna change my way of thinking, make myself a different set of rules. Gonna put my good foot forward and stop being influenced by fools."
---
"What's money? A man is a success if he gets up in the morning and gets to bed at night, and in between he does what he wants to do.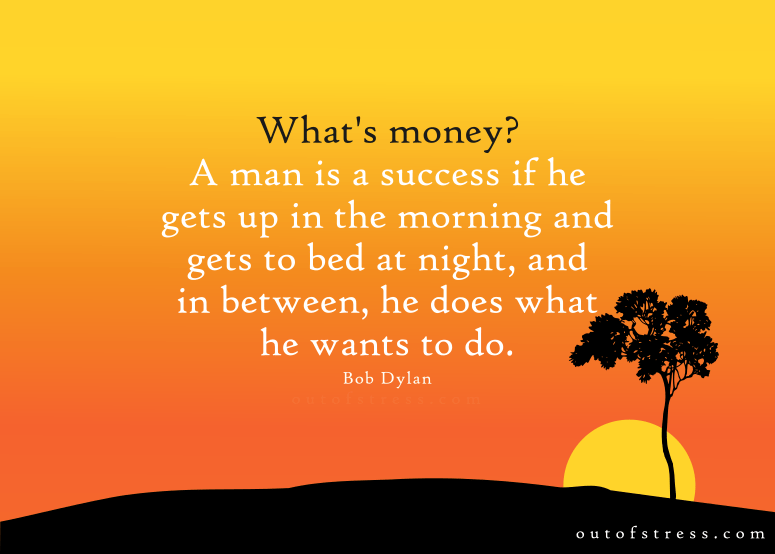 ---
"There's a wall between you and what you want and you got to leap it."
---
"May your heart always be joyful. May your song always be sung."
---
"All I can be is me- whoever that is."
---
"The only thing I knew how to do was to keep on keeping on."
---
"May you grow up to be righteous, may you grow up to be true. May you always know the truth and see the lights surrounding you. May you always be courageous, stand upright and be strong. May you stay forever young."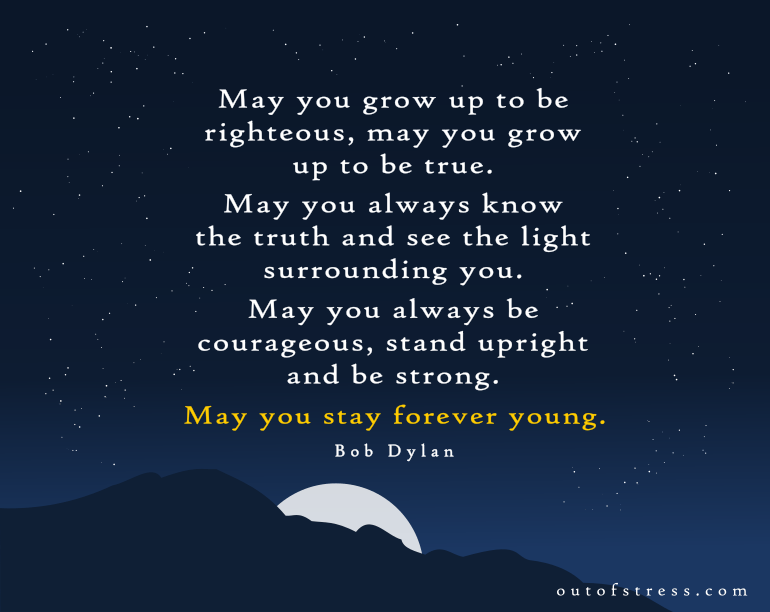 ---
"And it dawned on me that I might have to change my inner thought patterns… that I would have to start believing in possibilities that I wouldn't have allowed before, that I had been closing my creativity down to a very narrow, controllable scale… that things had become too familiar and I might have to disorientate myself."
– Chronicles Volume One
---
"Whatever you do. You ought to be the best at it – highly skilled. It's about confidence, not arrogance. You have to know that you're the best whether anybody else tells you or not. And that you'll be around, in one way or another, longer than anybody else. Somewhere inside of you, you have to believe that."
---
"Passion rules the arrow that flies."
---
"May you always do for others and let others do for you."
Quotes on human nature
"People seldom do what they believe in. They do what is convenient, then repent."
---
"People have a hard time accepting anything that overwhelms them."
---
"Experience teaches us that silence terrifies people the most."
---
Bob Dylan quotes that will make you think
---
"Sometimes it's not enough to know what things mean, sometimes you have to know what things don't mean."
---
"Life is more or less a lie, but then again, that's exactly the way we want it to be."
---
"Some people feel the rain. Others just get wet."
---
"Act the way you'd like to be and soon you'll be the way you'd like to act."
---
"All the truth in the world adds up to one big lie."
---
"If you try to be anyone but yourself, you will fail; if you are not true to your own heart, you will fail. Then again, there's no success like failure."
---
"It frightens me, the awful truth, of how sweet life can be…"
---
"Every pleasure's got an edge of pain, pay your ticket and don't complain."
---
"Even if you don't have all the things you want, be grateful for the things you don't have that you don't want."
---
"Let me forget about today until tomorrow."
---
"I change during the course of a day. I wake and I'm one person, and when I go to sleep I know for certain I'm somebody else."
---
"Behind every beautiful thing, there's some kind of pain."
---
"I don't think the human mind can comprehend the past and the future. They are both just illusions that can manipulate you into thinking there's some kind of change.
---
"Funny, how the things you have the hardest time parting with are the things you need the least."
---
"I've never been able to understand the seriousness of it all, the seriousness of pride. People talk, act, live as if they're never going to die. And what do they leave behind? Nothing. Nothing but a mask."
---
"When I listen to people talk, all I hear is what they're not telling me."
---
"It's very tiring having other people tell you how much they dig you if you yourself don't dig you."
---
"When You Cease To Exist, Then Who Will You Blame?"
---
"I define nothing. Not beauty, not patriotism. I take each thing as it is, without prior rules about what it should be."
---
"I'm against nature. I don't dig nature at all. I think nature is very unnatural. I think the truly natural things are dreams, which nature can't touch with decay."
---
"There is no equality. The only thing people all have in common is that they are all going to die.
---
"In the fury of the moment I can see the Master's hand In every leaf that trembles, in every grain of sand."
---
"Definition destroys. There's nothing definite in this world."
---
"I don't know why the number 3 is more metaphysically powerful than the number 2, but it is."
Also Read: 18 Deep Self Love Quotes That Will Change Your Life