Bob Ross is perhaps best known for his popular television show, 'The Joy Of Painting', that ran from January 11, 1983 until May 17, 1994. The show had a total of 31 seasons and 403 episodes and in each episode, Ross painted beautiful sceneries while encouraging his audience to pick up the brush and join in.
The highlight of the show was Ross's calm, tranquil commentary, the effortless way he used to paint and the paintings themselves that brought of sense of relaxation to the onlooker. All of these factors made his shows almost therapeutic in nature.
In addition to the relaxing nature of the show, Ross also shared beautiful nuggets of wisdom about life in many of his episodes that were delivered in relation to his paintings. For instance, Ross believed that through painting, one can understand and connect deeply with nature and that by connecting with nature, one can understand life better.
This article is a collection of many such wisdom filled Bob Ross quotes that you will find insightful. These quotes have been presented on beautiful relaxing images that you will find relaxing.
1. On finding beauty in the ordinary
"Look around. Look at what we have. Beauty is everywhere, you only have to look to see it."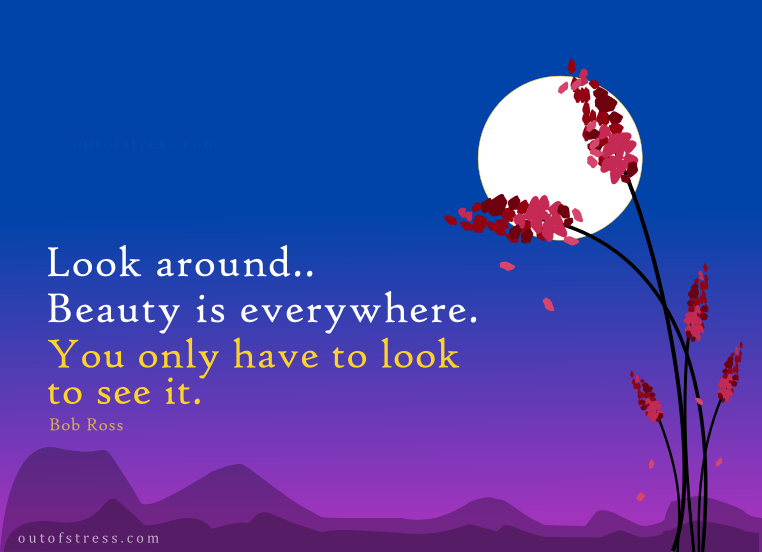 2. On how painting helps you understand nature
"If painting teaches you nothing else, it teaches you to look at nature with different eyes, it will teach you to see things that have been there all your life, and you have never noticed."
3. On spending time in nature
"I spend a lot of time, walking around the woods and talking to trees, squirrels and little rabbits and stuff."
"I guess I'm a little weird. I like to talk to trees and animals. That's okay though; I have more fun than most people."
"There's nothing wrong with having a tree as a friend."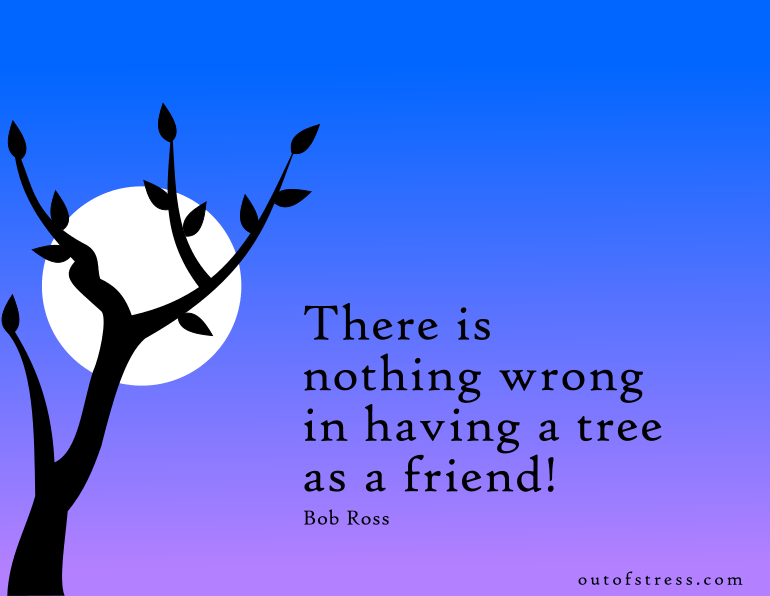 4. On being yourself
"Each one of us will see nature through different eyes, and that's the way you should paint; just the way you see it."
5. On being creative
"There is an artist hidden within every single one of us."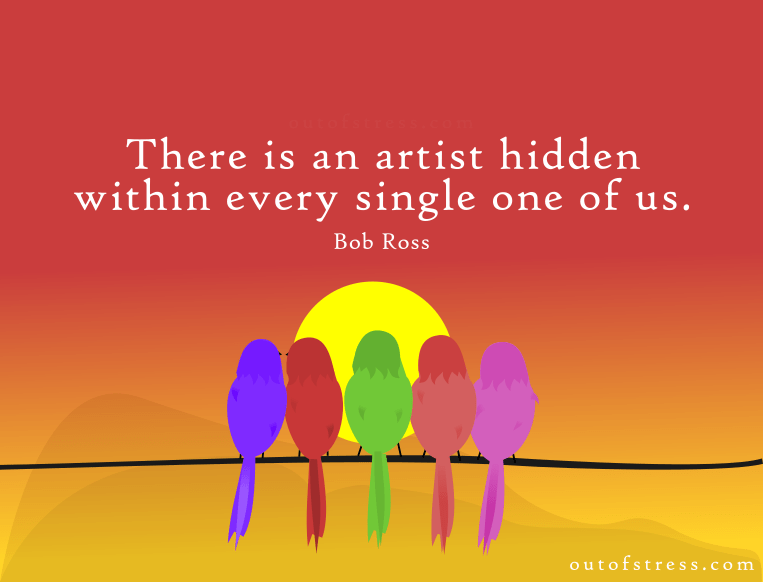 6. On the nature of life
"Gotta have opposites, light and dark and dark and light, in painting. It's like in life. Gotta have a little sadness once in awhile so you know when the good times come."
"Put light against light – you have nothing. Put dark against dark – you have nothing. It's the contrast of light and dark that each give the other one meaning."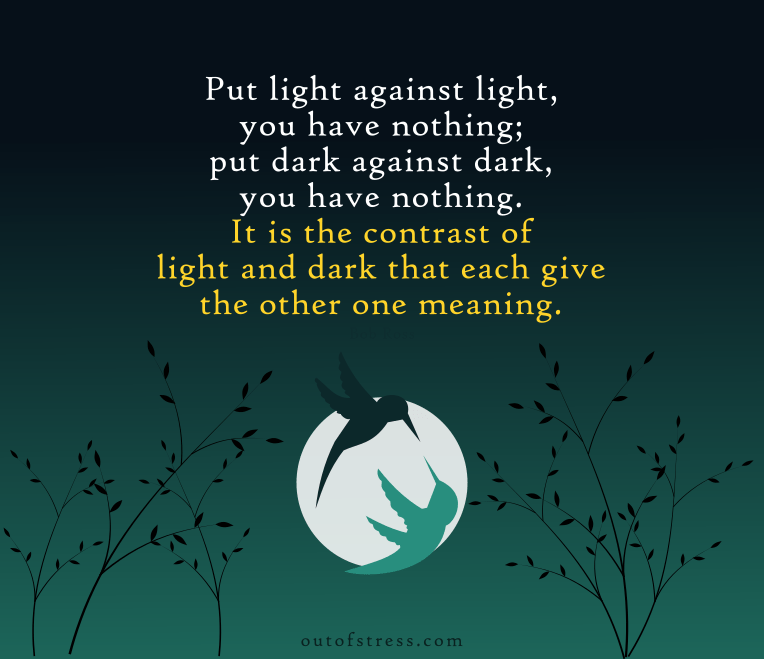 7. On self belief
"The secret to doing anything is believing that you can do it. Anything that you believe you can do strong enough, you can do. Anything. As long as you believe."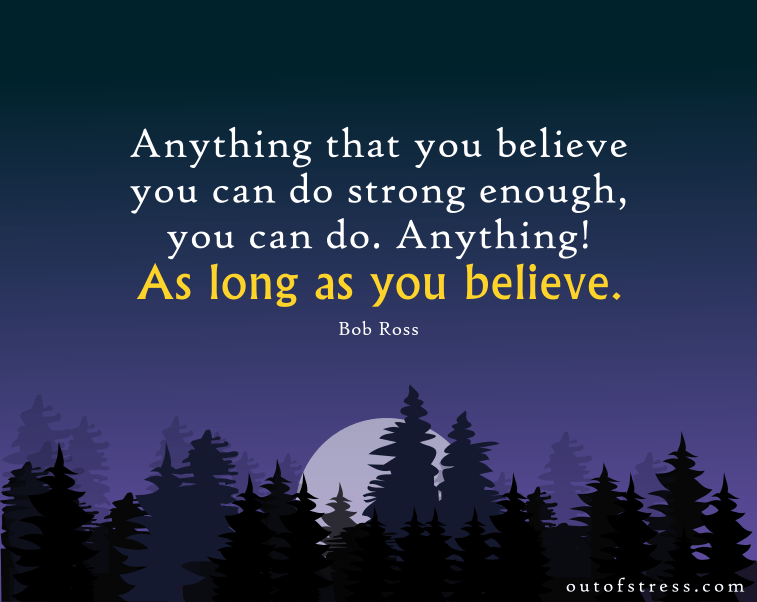 8. On going with the flow (and letting go of perfectionism)
"A lot of times I start a painting and have nothing in mind except the time of day and year. And from that you can paint some fantastic little scenes. You don't always have to have a perfect vision in your mind of what it is you are going to paint."
"Painting is not something you should labor over or worry about. Let it go. Have fun with it. If painting does nothing else, it should make you happy. Use what happens naturally, don't fight it."
9. On being talented
"Talent is just a pursued interest. In other words, anything that you're willing to practice, you can do."
10. On the power of imagination
"Imagination is like any other muscle in your body, the more you practice, the better it becomes."
"Just let your imagination take you anywhere you want to go. It's your world, and in your world, you make all the decisions."
11. On self expression through painting
"I can't think of anything more rewarding than being able to express yourself to others through painting. Exercising the imagination, experimenting with your talents, being creative; these things, to me, are truly the windows to your soul."
– Bob Ross, (The Joy of Painting with Bob Ross, Vol. 29)
12. On success
"There's nothing in the world that breeds success like success."
"It's not failure if you learn from it. Anything that you try and you don't succeed, if you learn from it, it's not a failure."
13. On learning to paint
"All you need to paint is a few tools, a little instruction, and a vision in your mind."
"Anybody can put a little masterpiece on canvas, with just a little bit of practice and a vision in your mind."
"Start with a vision in your heart and put it on canvas."
14. On learning to adapt
"We don't make mistakes here, we make happy accidents. Very quickly you learn to work with anything that happens."
"One fantastic thing about painting is that you can compose as you paint, that way you don't have to spend a lot of time trying to figure out what to paint before you start."
"Painting is quite easy. What becomes difficult is not how to paint, but what to paint. So learn to compose as you work, that way you have total freedom."
15. On having fun
"Let's make some nice little clouds that just float around and have fun all day."
Did you enjoy these Bob Ross quotes? Were you able to grasp the hidden wisdom in them? If so, you will really enjoy watching Bob Ross paint and listen to his calming commentary. Almost all of Bob Ross's television shows are available on youtube! So check them out anytime you want a relaxing therapeutic session at home, while getting inspired to pick up a brush and paint.