When we speak of feeling low we tend to describe sadness, loneliness, fear, anger, or confusion.
Rarely do we use the word "comfort", and yet comfort is precisely what makes misery difficult to release. Even though we do not like the situation we are in, letting misery control our lives is simply easier than facing the challenge of rising against it.
And so we find ourselves longing to curl up in bed or brood over our problems for hours on end.
Yet with a simple smile you can break the comfort and take a major step towards healing.
Smile and Observe Your Body!
Form your smile first with your mouth, then allow your face to soften, your temples to relax, and your eyes to participate.
Hold your smile for a few minutes. If it starts to fade, reform and keep holding.
As you hold, examine first how your body reacts. The muscles begin to relax, the heart rate slows down, and the breath lengthens. Notice the change in your thoughts.
Are they more positive? Hopeful? Objective?
Smile When You Are Upset
Smiling when you are upset is about the last thing you will feel like doing. It will feel unnatural and awkward.
Yet you do not need to come up with a reason to smile.
Try it when you are alone and give yourself as much time as you need to begin and end the process. The more you apply this strategy the easier it becomes to boost your spirits effortlessly and painlessly in the future.
Not only does a smile encourage ourselves to release negativity, but has a positive influence on those around us as well. Smiling is infectious and elicits positive remarks and reactions from our peers.
Forming a smile creates a spark of light that warms the heart and soothes the body, mind, and soul. This light guides us as well; it shows us that the path towards positive healing is paved with strength, hope, and humility. Smiling demonstrates that not only do you want to heal, but that you can!
So the next time you find yourself frowning, look at your image in the mirror and smile. Look at the positive effect it has on your thoughts and on your mood. Within minutes you will realize the abundance that lies in front of you and will start to embrace life. You will be thankful for everything that is out there.
Smiling is Addictive!
And as the saying goes, a smile is addictive.
Your smile will bring smiles to others around you. This leads to a chain reaction and the every heart is filled with positive energy. And we all know that positive energy heals.
As you keep practicing this technique, you will soon start to learn how to look at the positive side of things instead of the negative side. So while you are reading this article, bring a smile on your face. Feels great doesn't it?
Quotes on the power of a smile
The following is collection of beautiful quotes on the power of a smile.
"Sometimes your joy is the source of your smile, but sometimes your smile can be the source of your joy." – Thich Nhat Hanh
"Too often we underestimate the power of a touch, a smile, a kind word, a listening ear, an honest compliment, or the smallest act of caring, all of which have the potential to turn a life around." – Leo F. Buscaglia
"You'll find that life is still worthwhile, if you just smile." – Charlie Chaplin
"It only takes a split second to smile and forget, yet to someone that needed it, it can last a lifetime." – Steve Maraboli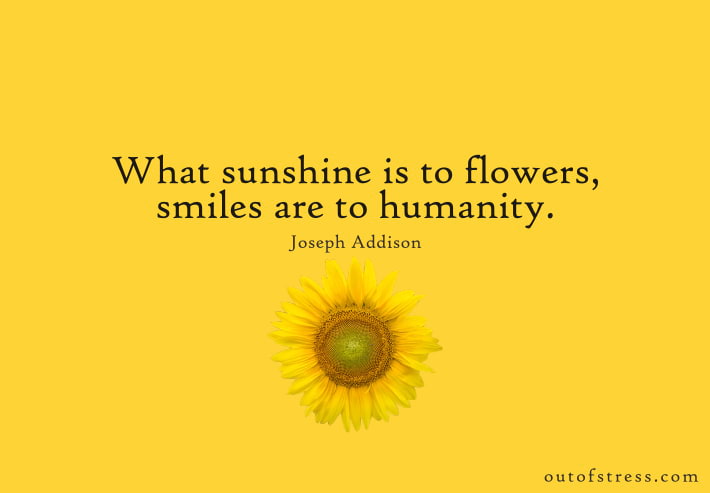 "What sunshine is to flowers, smiles are to humanity. – Joseph Addison
"A smile is the best way to get away with trouble even if it's a fake one." – Masashi Kishimoto
"Smile at strangers and you just might change a life." – Steve Maraboli
"A smile remains the most inexpensive gift I can bestow on anyone and yet its powers can vanquish kingdoms." – Og Mandino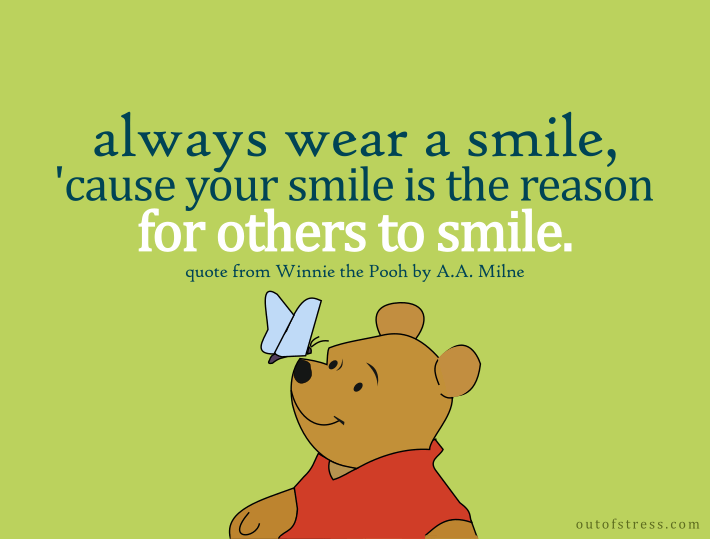 Always wear a smile, cause your smile is the reason for others to smile. – A. A. Milne, Winne the Pooh
"All the statistics in the world can't measure the warmth of a smile." – Chris Hart
"The joy and smile of even one child is worth more than the prancing intellects of a thousand men, for we are, that we might have joy, and be free." – Bryant McGill
"A smile makes a pretty good substitute for a rainbow." – Anthony T. Hincks
"Flames of your smile burn my whole heart to purify it." – Debasish Mridha MD
"Sun gives light; torch gives light, candle gives light; smiling gives light." – Mehmet Murat ildan
"Keep smiling, the world needs beautiful things!" – R.E.S. Tidmore
"I guess when you smile, it's just joy coming out of you." – Tom Hiddleston
"Soul smiles through the lips of a happy face" – Munia Khan
"I don't know about you, but I celebrate being in love with life by smiling." – Anthony T.Hincks
"Smiling heals the soul and fills the heart with bliss." – Debasish Mridha
"If you have the power to smile through difficult times, then you have nothing to fear. Even hell becomes heaven for you." – Hideaki Sorachi
"Want to give a very strong energy to someone with a simple act? Then, smile!" – Mehmet Murat ildan
"The things that may change our world to make better; smiling, helping, respecting, loving & forgiving." – Hussein Abdallah
"No one is too poor to give a smile – a gift, often, of greater consequence than any sum of money." – Vironika Tugaleva
"Your smile will invite people to the positive world. Keep smiling, it's worth it." – Euginia Herlihy
"Just sharing one little smile can change someone's whole world." – Heather Wolf