There are many people who believe that proponents of the Law of Attraction are wooing people towards materialism.
It's true that the most teachings of the law of attraction are purely focused on helping you achieve material success, but the more authentic teachings actually bridge the material realm with the spiritual realm.
I believe Jesus by far was a very authentic teacher of the law of attraction, though he never really used that term directly.
If you read the bible you will find many indirect references to the law of attraction, and some very direct ones.
In this article we will look at many contexts in which the principles of the law of attraction are found in the teachings of the Bible.
1. "And all things, whatsoever you shall ask in prayer, believing, you shall receive." – Matthew 21:22
Jesus in one of his teachings alluded to the law of attraction by stating that "Anything that you ask in a prayer, believe that it will be given to you." .
This was the most direct reference that Jesus made to the law of attraction.
The conventional teachers of law of attraction would put it as this – "When you ask or desire for something, and believe in your mind that you can have it, then you activate a strong current of attraction which will draw you towards its manifestation".
This is exactly what Jesus was conveying though he referred to "asking" as "prayer".
The most important factor to note is the emphasis on "believe", because when you ask for something and don't believe that you can have it, it's not possible for you to see its manifestation because you will not be a vibrational match to your desire.
A very similar version of this verse is found in Mark 11:24: "Therefore I tell you, whatever you ask for in prayer, believe that you have received it, and it will be yours." – Mark 11:24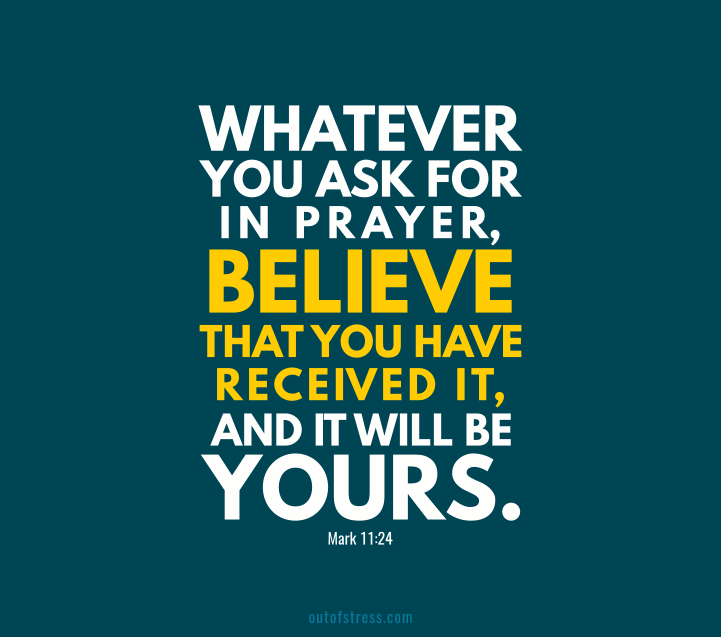 The emphasis here is on believing that you have already received what you asked for by imagining and feeling how it feels to have received it. As per the LOA, a thought along with a corresponding feeling is the basis of manifestation. And that is exactly what this verse is trying to convey.
2. "Ask, and it shall be given to you; seek, and you shall find; knock, and it shall be opened unto you." – Matthew 7:7
This is another powerful verse by Jesus akin to the LOA.
By saying this, Jesus wants to plant in his followers the seeds of self-belief. He assures them that all they need to do is 'ask' and they will receive it. He wants them to 'Ask' with conviction and have utmost belief that they will receive whatever they asked for.
When you pursue a goal with almost sincerity and believe in your heart that you are deserving of it and that you are going to receive it, you are bound to realize it. There is no other outcome that is possible.
When you believe that you are deserving of something, you automatically become a vibrational match to your desired reality.
This is a powerful verse that also appears in Luke 11.9.
3. "The Kingdom of Heaven is within." – Luke 17:21

One of the most poignant teachings of the Bible is its allusion towards seeking heaven within yourself instead of in the external reality.
Jesus was known to point to the fact that there is really no outside, but that everything is within us. The authentic teachings of law of attraction always talk about how the outer reality is nothing but a reflection of the inner reality.
If you would stop focusing so much on your current reality and spend more time visualizing the kind of reality that you want, it will bring you inner peace and place you in alignment with your desire. Instead of seeking satisfaction from the external reality, focus on the inner peace of being.
When you stay in this peace, your vibration will move up to match that of your desires, and this will directly lead you to attract them into your reality.
4. "I and my Father are one." – John 10:30
There are also several references in the Bible, where it has been pointed out that what we are is not this "flesh, blood and bone" body, but something much beyond that. As Jesus once said "Before Abraham was, I am (John 8:58)".
In John 14:11, Jesus says, "I am in the Father and the Father is in me" and in John 10:30, he says, "I and my Father are one".
This refers to the fact that we are not limited to our bodies, but in essence we are one with the "source" and we have the power to create any reality that we desire.
5. "If thou can believe, all things are possible, to him that believeth." – Mark 9.23
This is again one of the several versus in the Bible that stress the value of belief. Belief here refers largely to 'self belief' – belief in your self worth, belief in your abilities and belief that you are deserving of realities that you desire.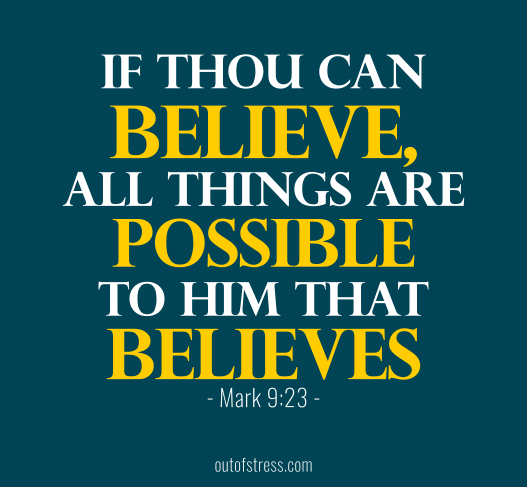 The only way to strengthen your self belief is to identify and discard all negative beliefs that limit you. This can be achieved by becoming conscious of your thoughts through practices like meditation and mindfulness.
6. "As a man thinks in his heart, so is he." – Proverbs 23:7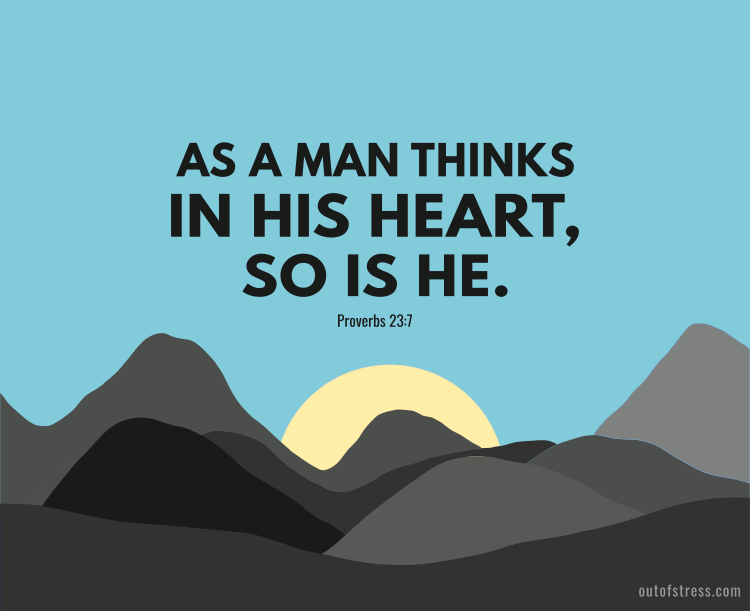 Here's another Biblical verse that suggests that we attract what we think and believe in. The heart here refers to our deepest beliefs. Beliefs that we hold close to us.
If you believe in your heart that you are not good enough, then you will continue to see things in your outer reality that re-affirm that belief.
But the moment you realize the truth and discard these negative beliefs, you start moving toward a reality that is in alignment with your true nature.
7. "Do not conform to the pattern of this world, but be transformed, by the renewing of your mind." – Romans 12:2
The beliefs that you hold in your mind that have formed over the years because of external conditioning, limit you from achieving your true potential.
Jesus rightly points out that the way to attract a reality that is in alignment with your truest desires is to transform your thinking.
You need to become conscious of your thoughts and discard all limited thinking patterns and replace them with beliefs that are more congruent to the reality that you desire.
8. "According to your faith, shall it be done to you." – Matthew 9:29
Faith here refers to 'self belief'. If you lack the faith that you can achieve something, that something will remain elusive to you. But the moment you develop faith in your self and in your abilities, you will begin to manifest your desires.
9. "Fix your eyes not on what is seen, but on what is unseen, since what is seen is temporary, but what is unseen is eternal." – Corinthians 4:18
The unseen is what has not yet manifested. In order to manifest it, you need to see it in your imagination. You need to shift your attention from your current state of being, to imagining the state of being that you desire.
What is meant by, 'Fix your eyes', is to focus your attention on imagining the things you want manifested.
10. "Give, and it will be given to you. A good measure, pressed down, shaken together and running over, will be poured into your lap. For with the measure you use, it will be measured to you."
– Luke 6:38 (NIV)
This verse is a clear indication that you attract what you feel. The vibrational frequency you give out is the frequency you attract. When you feel abundance, you attract abundance. When you feel positive, you attract positivity. So on and so forth.
11. "Therefore I tell you, whatever you ask in prayer, believe that you have received it, and it will be yours." – Mark 11:24
By this verse, Jesus states, as you visualize/pray you need to believe in your heart that you have already manifested your desire. In other words, you need to think the thoughts and feel the emotions of the futuristic state when your dreams have manifested. As per the LOA, this makes you a vibrational match to the thing that you desire.
12. "Now faith is the assurance of things hoped for, the conviction of things not seen." – Hebrews 11:1
This verse again states the same message as Mark 11:24 and Corinthians 4:18, that you must have belief that your dreams have already manifested in the spiritual realm and will be manifested in the physical realm very soon.
So these are 12 versus in the Bible that pertain to the Law of Attraction. There are many more, but these pretty much sum up what Jesus was trying to say about the LOA.