Written by ancient Chinese philosopher Lao Tzu, the Tao Te Ching (also know as the Dao De Jing) has been a source of inspiration to many inside and outside of China. In-fact, the Tao Te Ching is one of the most translated works in world literature.
The Tao Te Ching, and the Zhuangzi, constitute the basic literature for both philosophical and religious Taoism.
The Tao Te Ching contains 81 brief chapters each carrying deep wisdom about life, consciousness, human nature and more.
What is the meaning of Tao?
In chapter 25 of the Tao Te Ching, Lao Tzu defines Tao as follows, "There was something formless and perfect before the universe was born. It is serene. Empty. Solitary. Unchanging. Infinite. Eternally present. It is the mother of the universe. For lack of a better name, I call it the Tao."
It is clear from this definition that Lao Tzu uses the word Tao to refer to the 'formless eternal consciousness' that is the basis of the universe.
Lao Tzu dedicates many chapters in the Tao Te Ching describing the nature of the Tao.
Life lessons you can learn from the Tao Te Ching
So what can you learn from the Tao Te Ching?
The Tao Te Ching is filled with wisdom to live a balanced, virtuous and peaceful life. The following is a collection of 31 valuable life lessons taken from this powerful book.
Lesson 1: Be true to yourself.
When you are content to be simply yourself and don't compare or compete, everybody will respect you. – Tao Te Ching, Chapter 8
---
Also Read: 34 Inspirational Quotes About Putting Yourself First
---
Lesson 2: Let go of perfectionism.
Fill your bowl to the brim and it will spill. Keep sharpening your knife and it will blunt. – Tao Te Ching, Chapter 9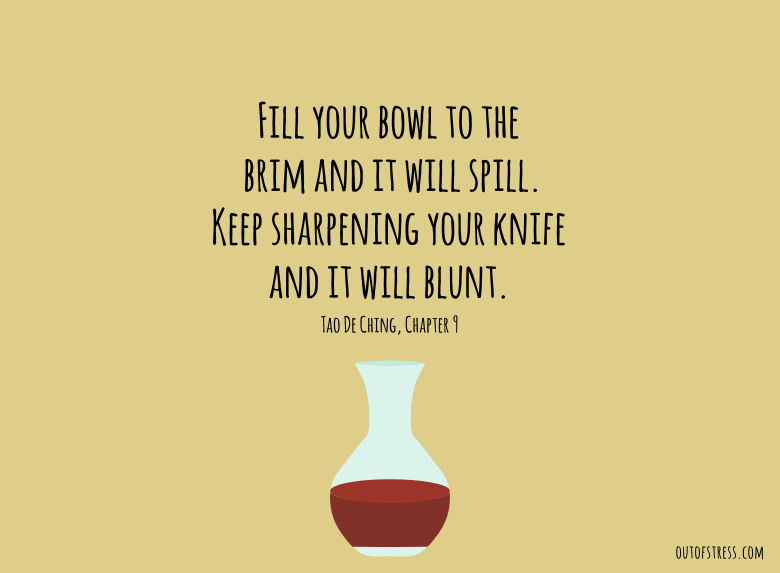 Lesson 3: Let go of your need for approval.
Care about people's approval and you will be their prisoner. – Tao Te Ching, Chapter 9
Lesson 4: Look for fulfillment within.
If you look to others for fulfillment, you will never truly be fulfilled. If your happiness depends on money, you will never be happy with yourself. – Tao Te Ching, Chapter 44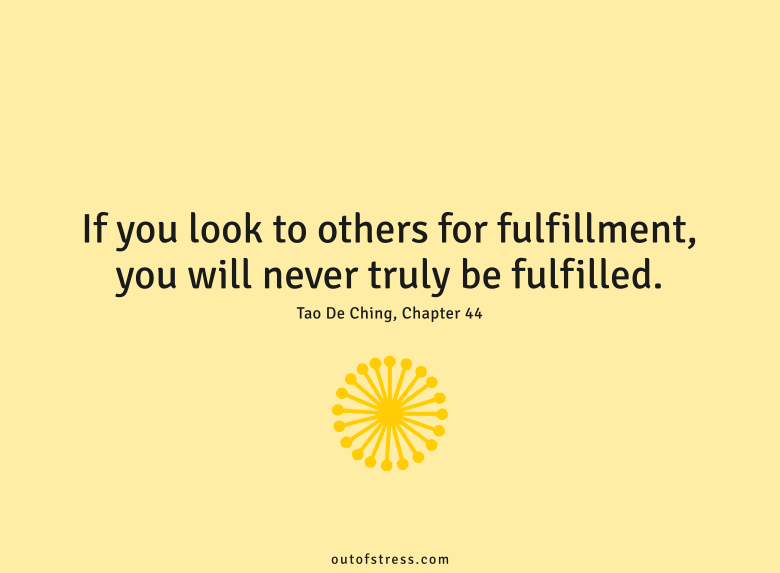 Lesson 5: Practice detachment.
Having without possessing, acting with no expectations, leading and not trying to control: this is the supreme virtue. – Tao Te Ching, Chapter 10
Lesson 6: Be open and allowing.
The Master observes the world but trusts his inner vision. He allows things to come and go. His heart is open as the sky. – Tao Te Ching, Chapter 12
Lesson 7: Be patient and the right answers will come.
Do you have the patience to wait till your mud settles and the water is clear? Can you remain unmoving till the right action arises by itself? – Tao Te Ching, Chapter 15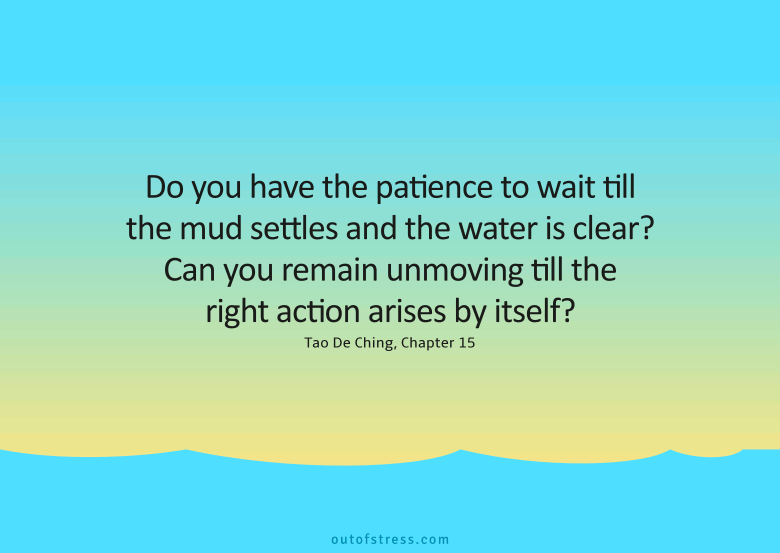 Lesson 8: Come to the present moment to experience peace.
Empty your mind of all thoughts. Let your heart be at peace. – Tao Te Ching, Chapter 16
Lesson 9: Do not limit yourself to preconceived beliefs and ideas.
He who defines himself can't know who he really is. – Tao Te Ching, Chapter 24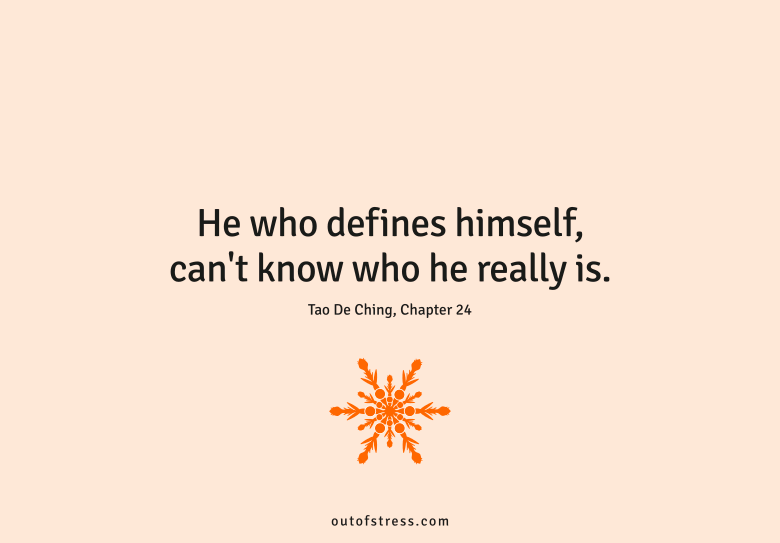 Lesson 10: Be firmly anchored to your inner self.
If you let yourself be blown to and fro, you lose touch with your root. If you let restlessness move you, you lose touch with who you are. – Tao Te Ching, Chapter 26
Lesson 11: Live in the process, do not worry about the end result.
A good traveler has no fixed plans and is not intent upon arriving. – Tao Te Ching, Chapter 27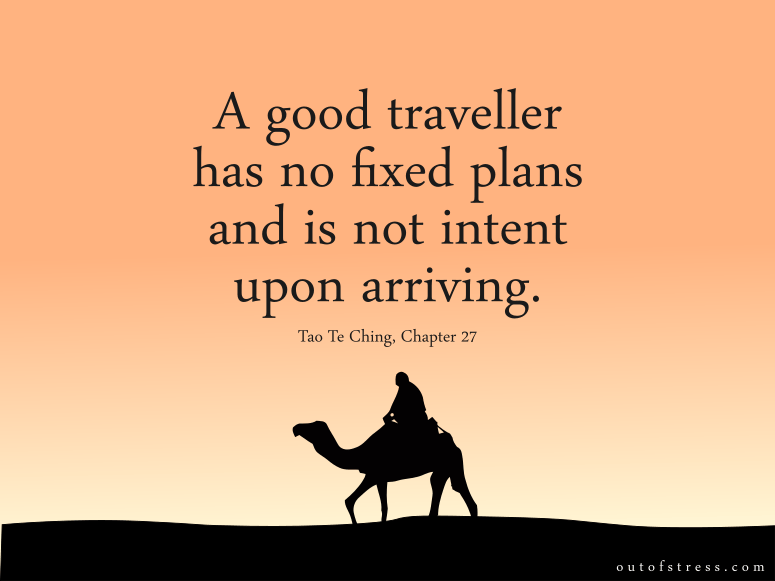 Lesson 12: Do not hold on to concepts and have an open mind.
A good scientist has freed himself of concepts and keeps his mind open to what is. – Tao Te Ching, Chapter 27
Lesson 13: Follow your intuition.
A good artist lets his intuition lead him wherever it wants. – Tao Te Ching, Chapter 27
Lesson 14: Let go of control
The Master sees things as they are, without trying to control them. She lets them go their own way, and resides at the center of the circle. – Tao Te Ching, Chapter 29
Lesson 15: Understand and accept yourself completely.
Because he believes in himself, he doesn't try to convince others. Because he is content with himself, he doesn't need others' approval. Because he accepts himself, the whole world accepts him. – Tao Te Ching, Chapter 30
Lesson 16: Practice self awareness. Get to know and understand yourself.
Knowing others is intelligence; knowing yourself is true wisdom. Mastering others is strength; mastering yourself is true power. – Tao Te Ching, Chapter 33
Lesson 17: Focus on your work and not on others.
Let your workings remain a mystery. Just show people the results. – Tao Te Ching, Chapter 36
Lesson 18: See through the illusion of fearful thoughts.
There is no greater illusion than fear. Whoever can see through all fear will always be safe. – Tao Te Ching, Chapter 46
Lesson 19: Focus on understanding more and not on accumulating knowledge.
The more you know, the less you understand. – Tao Te Ching, Chapter 47
Lesson 20: Small consistent steps lead to big results.
The giant pine tree grows from a tiny sprout. The journey of a thousand miles starts from beneath your feet. – Tao Te Ching, Chapter 64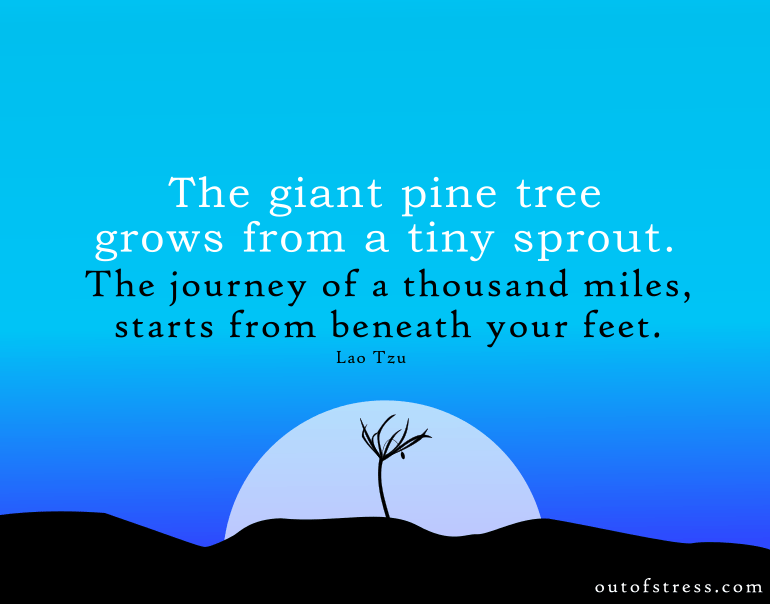 Lesson 21: Always be open to learning.
When they think that they know the answers, people are difficult to guide. When they know that they don't know, people can find their own way. – Tao Te Ching, Chpater 65
Lesson 22: Be humble. Humility is powerful.
All streams flow to the sea because it is lower than they are. Humility gives it its power. – Tao Te Ching, Chapter 66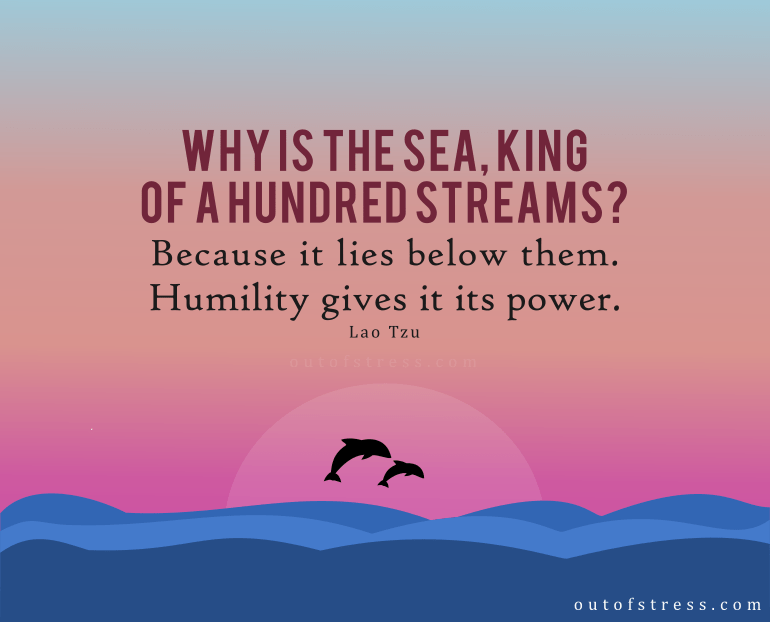 Lesson 23: Be simple, have patience and practice self compassion.
I have just three things to teach: simplicity, patience, compassion. These three are your greatest treasures. – Tao Te Ching, Chapter 67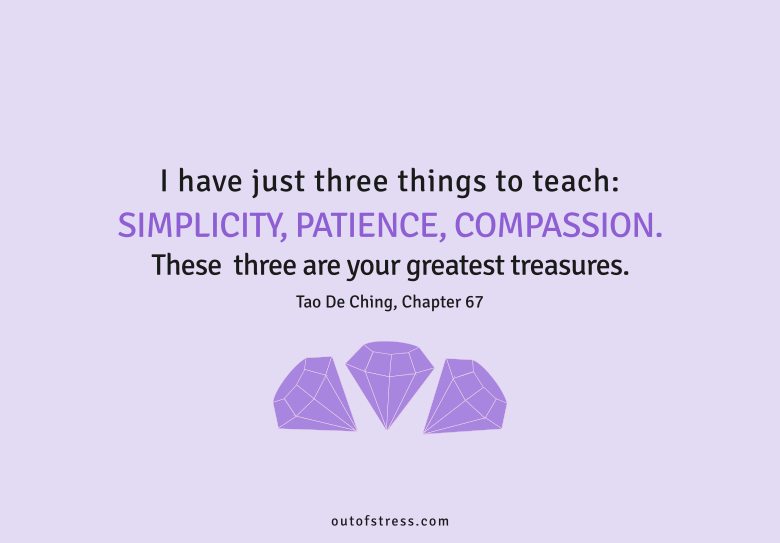 Lesson 24: Realize how little you know.
Not-knowing is true knowledge. Presuming to know is a disease. First realize that you are sick; then you can move toward health. – Tao Te Ching, Chaper 71
Lesson 25: Trust yourself.
When they lose their sense of awe, people turn to religion. When they no longer trust themselves, they begin to depend upon authority. – Tao Te Ching, Chapter 72
Lesson 26: Be accepting and flexible.
Nothing in the world is as soft and yielding as water. Yet for dissolving the hard and inflexible, nothing can surpass it. The soft overcomes the hard; the gentle overcomes the rigid. – Tao Te Ching, Chapter 78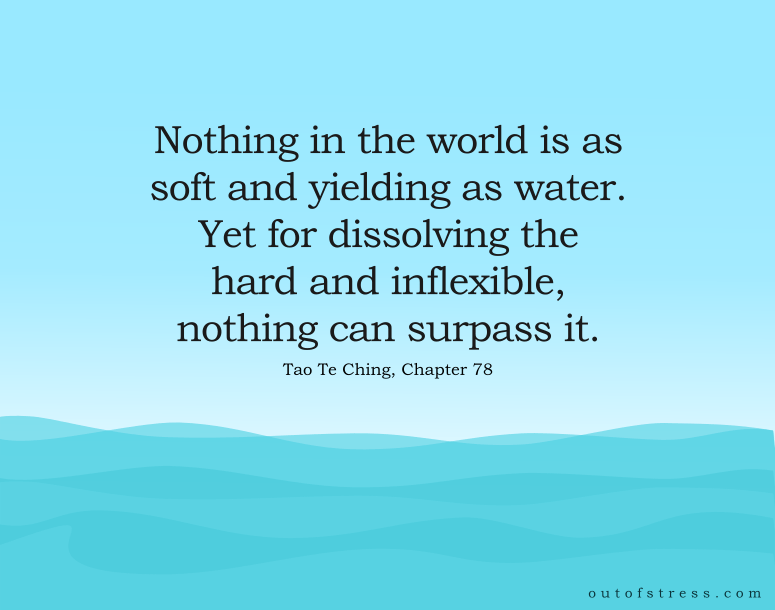 Lesson 27: Learn from your failures. Take responsibility and let go of blame.
Failure is an opportunity. If you blame someone else, there is no end to the blame. – Tao Te Ching, Chapter 79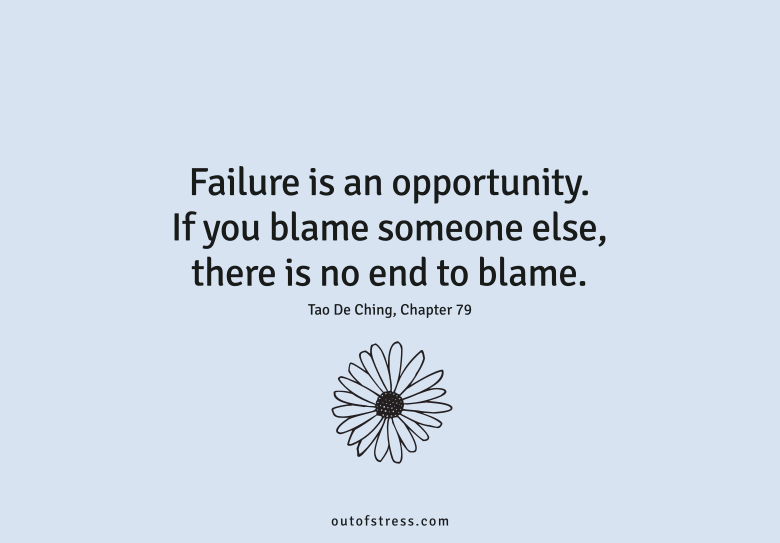 Lesson 28: Feel gratitude for what is.
Be content with what you have; rejoice in the way things are. When you realize there is nothing lacking, the whole world belongs to you. – Tao Te Ching, Chapter 44.
Lesson 29: Do not hold on to anything.
If you realize that all things change, there is nothing you will try to hold on to. – Tao Te Ching, Chapter 74
Lesson 30: Let go of judgments.
If you close your mind in judgments and traffic with desires, your heart will be troubled. If you keep your mind from judging and aren't led by the senses, your heart will find peace. – Tao Te Ching, Chapter 52
Lesson 31: Spend time in solitude.
Ordinary men hate solitude. But the Master makes use of it, embracing his aloneness, realizing he is one with the whole universe. – Tao Te Ching, Chapter 42
Also Read: 12 Important Life Lessons You Can Learn From Trees